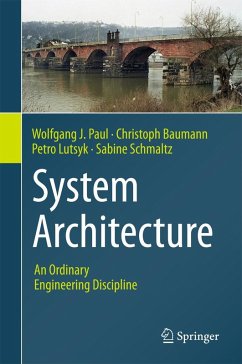 Andere Kunden interessierten sich
auch
für


The authors successively introduce and explain specifications, constructions and correctness proofs of a simple MIPS processor; a simple compiler for a C dialect; an extension of the compiler handling C with inline assembly, interrupts and devices; and the virtualization layer of a small operating system kernel. A theme of the book is presenting system architecture design as a formal discipline, and in keeping with this the authors rely on mathematics for conciseness and precision of arguments to an extent common in other engineering fields.

This textbook is based on the authors' teaching and practical experience, and it is appropriate for undergraduate students of electronics engineering and computer science. All chapters are supported with exercises and examples.


Produktdetails
Artikelnr. des Verlages: 978-3-319-43064-5
1st ed. 2016
Seitenzahl: 524
Erscheinungstermin: 12. Oktober 2016
Englisch
Abmessung: 241mm x 160mm x 34mm
Gewicht: 946g
ISBN-13: 9783319430645
ISBN-10: 3319430645
Artikelnr.: 45199125
Introduction.- Understanding Decimal Addition.- Basic Mathematical Concepts.- Number Formats and Boolean Algebra.- Hardware.- Five Designs of RAM.- Arithmetic Circuits.- A Basic Sequential MIPS Machine.- Some Assembler Programs.- Context-Free Grammars.- The Language C0.- A C0-Compiler.- Compiler Consistency Revisited.- Operating System Support.- A Generic Operating System Kernel.