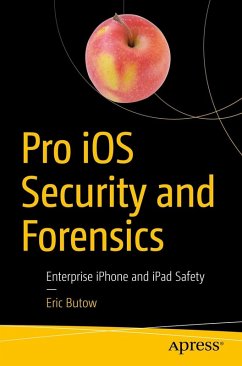 Andere Kunden interessierten sich
auch
für
Examine how to keep iOS devices safe in the physical world, including creating company policies for iPhones; assessing and defending against cyber vulnerabilities and attacks; working with preinstalled as well as third party tools; and strategies for keeping your data safe including backing up and screen locks.
Managing and maintaining iPhones and iPads in a corporate or other business environment inherently requires strict attention to security concerns. Managers and IT professionals need to know how to create and communicate business policies for using iOS devices in the workplace, and implement security and forensics tools to manage and protect them.
The iPhone and iPad are both widely used across businesses from Fortune 500 companies down to garage start-ups. All of these devices must have secure and monitorable ways to connect to the internet, store and transmit data without leaks, and even be managed in the event of a physical theft. Pro iOS Security and Forensics covers all these concerns as well as also offering tips for communicating with employees about the policies your business puts in place, why those policies are important, and how to follow them.
What You'll Learn
Review communicating policies and requirements for use of iPhones
Keep your iPhone safe in the physical world
Connect to the Internet securely
Explore strategies for keeping your data safe including backing up and screen locks
Who This Book Is For
Managers and IT professionals working in a business environment with iPhones and iPads.
---
Dieser Download kann aus rechtlichen Gründen nur mit Rechnungsadresse in A, B, BG, CY, CZ, D, DK, EW, E, FIN, F, GR, HR, H, IRL, I, LT, L, LR, M, NL, PL, P, R, S, SLO, SK ausgeliefert werden.
Produktdetails
Verlag: Springer-Verlag GmbH
Seitenzahl: 160
Erscheinungstermin: 31.07.2018
Englisch
ISBN-13: 9781484237571
Artikelnr.: 53469633
Chapter 1: Preparing Security FeaturesGoal: The reader will know how to set up built-in access and shared security features for employee iPhones.·      Screen Lock Methods and Features·      Restrict Access to Apps·      Change App Privacy Settings·      Erase Data After Login Failure·      Encrypting Your DeviceChapter 2: Using Security Apps and BackupGoal: The reader will know about how to download third-party security apps and back up an iPhone.·      Pre-Installed Security Apps·      Finding Security Apps in the App Store·      Adding Anti-Malware Apps·      Backing Up Your iPhone Regularly·      Using iTunes Securely Chapter 3: Connect to Your Network SecurelyGoal: The reader will understand the different types of network connections and how to secure them.·      Different Connection Types·      Create a Virtual Private Network·      Secure your Wi-Fi Connection·      Managing Your 4G/LTE Network Chapter 4: Creating PoliciesGoal: The reader will understand how to create effective policies and communicate them to others.·      Corporate vs. Personal iPhones·      Provisioning Policies for Device Management·      Policies for Loss and Theft·      Communicate Your Policies Chapter 5: Communicating About SecurityGoal: The reader will learn about iPhone safety and security practices to communicate to employees.·      Look for the Hooks of Email Phishers·      Staying Safe Browsing the Web·      Managing App Permissions·      Updating iOS and Apps RegularlyChapter 6: Recovering from Loss or Attack
Goal: The reader will understand how to use apps to find, lock, and recover an iPhone.·      Using Find my iPhone·      Accessing Your iPhone Remotely·      Using Recovery Mode·      Accessing DFU Mode·      Checking Your iPhone Apps, Settings, and Data
Es gelten unsere Allgemeinen Geschäftsbedingungen: www.buecher.de/agb
Impressum
www.buecher.de ist ein Shop der
buecher.de GmbH & Co. KG
Bürgermeister-Wegele-Str. 12,
86167 Augsburg
Amtsgericht Augsburg HRA 13309
Persönlich haftender Gesellschafter: buecher.de Verwaltungs GmbH
Amtsgericht Augsburg HRB 16890

Vertretungsberechtigte:
Günter Hilger, Geschäftsführer
Clemens Todd, Geschäftsführer

Sitz der Gesellschaft:Augsburg
Ust-IdNr. DE 204210010
---
Bitte wählen Sie Ihr Anliegen aus.