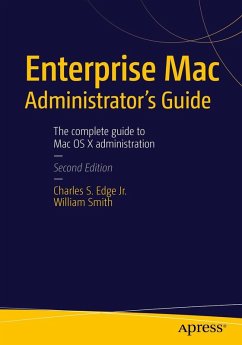 Now in its second edition, Enterprise Mac Administrator's Guide addresses the growing size and spread of Mac OS X deployments in corporations and institutions worldwide. In some cases, this is due to the growth of traditional Mac environments, but for the most part it has to do with organizations instituting device choice and switcher campaigns, where Windows and/or Linux environments are migrating to Mac OS X. There is a steep culture shock with many of these migrations. The products that are used are different, the nomenclature is different, and most importantly the best practices for dealing with the operating system and updates are very different.
Apple provides a number of tools to help automate and guide IT toward managing a large number of Mac OS X computers-it has since before Mac OS X was initially released. However, if you want to put together all of the pieces to tell a compelling story about how to run an IT department or a deployment of Macs, you need to compile information from a number of different sources. This book provides explanations of the technology required.
What You'll Learn
Choose a directory services model that works for your organization and integrate it into your existing model
Choose an imaging model and begin imaging workstations with or without third-party products
Use the Mac App Store and Apple's Volume Purchasing Program to deploy apps
Leverage scripting techniques to reduce labor for the IT department
Provide network services (file sharing, mobile home folders, messaging, etc.) to the Mac OS X clients
Who This Book Is For
System administrators and IT professionals who need to manage a large number of Mac OS X computers, be they Mac OS X-based servers or workstations. The assumption is that readers are somewhat familiar with Mac OS X and/or IT in general, but not that they are familiar with the Apple system internals, server services, or deployment techniques.
---
Dieser Download kann aus rechtlichen Gründen nur mit Rechnungsadresse in A, B, BG, CY, CZ, D, DK, EW, E, FIN, F, GR, HR, H, IRL, I, LT, L, LR, M, NL, PL, P, R, S, SLO, SK ausgeliefert werden.
Produktdetails
Verlag: Springer-Verlag GmbH
Seitenzahl: 503
Erscheinungstermin: 28.11.2015
Englisch
ISBN-13: 9781484217061
Artikelnr.: 44616955
Es gelten unsere Allgemeinen Geschäftsbedingungen: www.buecher.de/agb
Impressum
www.buecher.de ist ein Shop der
buecher.de GmbH & Co. KG
Bürgermeister-Wegele-Str. 12,
86167 Augsburg
Amtsgericht Augsburg HRA 13309
Persönlich haftender Gesellschafter: buecher.de Verwaltungs GmbH
Amtsgericht Augsburg HRB 16890

Vertretungsberechtigte:
Günter Hilger, Geschäftsführer
Clemens Todd, Geschäftsführer

Sitz der Gesellschaft:Augsburg
Ust-IdNr. DE 204210010
---
Bitte wählen Sie Ihr Anliegen aus.