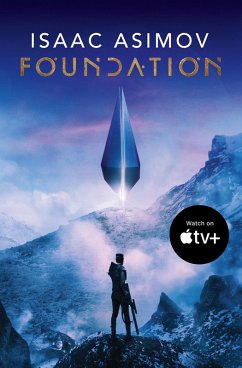 Geräte: eReader

mit Kopierschutz

Größe: 1.46MB

FamilySharing(5)
Andere Kunden interessierten sich
auch
für
The first volume in Isaac Asimov's world famous saga, winner of the Hugo Award for Best All - Time Novel Series.
Long after Earth was forgotten, a peaceful and unified galaxy took shape, an Empire governed from the majestic city planet of Trantor. The system worked, and grew, for countless generations. Everyone believed it would work forever. Everyone except Hari Seldon.
As the great scientific thinker of his age, Seldon could not be ignored. Reluctantly, the Commission of Public Safety agreed to finance the Seldon Plan. The coming disaster was predicted by Seldon's advances in psychohistory, the mathematics of very large human numbers, and it could not be averted. The Empire was doomed. Soon Trantor would lie in ruins. Chaos would overtake humanity. But the Seldon Plan was a long term strategy to minimise the worst of what was to come.
Two Foundations were set up at opposite ends of the galaxy. Of the Second nothing can be told. It guards the secrets of psychohistory. 'Foundation' is the story of the First Foundation, on the remote planet of Terminus, from which those secrets were withheld.
The epic story of the Foundation is one of the great classics of science fiction. For fifty years the innovative genius of Isaac Asimov has surged ahead of real time. He is the Grand Master of the genre.
---
Dieser Download kann aus rechtlichen Gründen nur mit Rechnungsadresse in A, B, BG, CY, CZ, D, DK, EW, E, FIN, F, GR, HR, H, IRL, I, LT, L, LR, M, NL, PL, P, R, S, SLO, SK ausgeliefert werden.
Praise for Isaac Asimov and his Foundation series

A true polymath, a superb rationalist, an exciting and accessible writer in both fiction and nonfiction, Isaac Asimov was simply a master of all he surveyed. Greg Bear

Asimov served wondrous meals-of-the-mind to a civilization that was starved for clear thinking about the future. To this day, his visions spice our ongoing dinner-table conversation about human destiny. David Brin

Isaac was still in his teens when I met him, a fan of mine before I was a fan of his. Writing for John W. Campbell back in the famous golden age of science fiction, he became one of the founders of our field. With the Robot stories and the Foundation stories, he helped to shape science fiction as we know it. Jack Williamson

I grew up on the ABC s of science fiction Asimov, Bradbury, Clarke. There s a reason Asimov s name comes first, and not just because of the alphabet! Janis Ian

With his fertile imagination, his wit, and his prolific output, Isaac Asimov truly laid the foundation for all future generations of science fiction writers. Kevin J. Anderson

If anything can be said to have been the launch pad for space-age science fiction, it has to be the Foundation trilogy. It s a classic. And it s unforgettable. Jack McDevitt

The Foundation series is one of the masterpieces of science fiction. If you ve never read these novels, then you re in for a treat, and even if you ve already read them, then you owe it to yourself to reread them, because they re still great. Allen Steele

Quite simply, Asimov got me started. Liz Williams

Asimov s Foundation trilogy was the pivotal touchstone of my life in creative fiction. His vision and scope spanned the galaxy across eons, and at the same time he told deeply personal stories of living characters. The writer I am sprang from the boy that these books touched back then. They continue to move me still. Thank you, Isaac, for opening my mind and my life to the possible. Tracy Hickman

I m sure there will be more Foundation stories, and more robot stories, and more science-fictional mysteries, because those are Isaac s legacies to us. But reading them won t be quite the same. There was only one Isaac Asimov; there will never be another. Mike Resnick