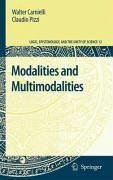 Andere Kunden interessierten sich
auch
für
---
Dieser Download kann aus rechtlichen Gründen nur mit Rechnungsadresse in A, B, BG, CY, CZ, D, DK, EW, E, FIN, F, GR, HR, H, IRL, I, LT, L, LR, M, NL, PL, P, R, S, SLO, SK ausgeliefert werden.
Produktdetails
Verlag: Springer-Verlag GmbH
Erscheinungstermin: 15.09.2008
Englisch
ISBN-13: 9781402085901
Artikelnr.: 37337948
Preface.- 1. Modal logic and standard logic.- 2. The syntax of normal modal systems.- 3. The semantics of normal modal systems.- 4.Completeness and canonicity.- 5. Incompleteness and finite models.- 6. Temporal logics.- 7. Epistemic logic: knowledge and belief.- 8. Multimodal logics.- 9. Towards quantified modal logic.- Bibliography.- Index.
From the reviews: "This is mainly an introductory textbook on modal logic containing, apart from standard topics, some very important recent material which is not regularly included in other textbooks. [...] It is important to note that several of the different topics dealt with in the book are accompanied by philosophical remarks." Max A. Freund (San José), taken from his review of the Italian version Modalità e Multimodalità "This revised work constitutes an introduction to standard topics in modal logic. There are other sections presenting valuable material not generally included in elementary textbooks on modal logic ... . The book is written in a clear and agreeable style and useful exercises and references for further reading are given at the end of each chapter. ... Due to all these features, the book is well suited for an introductory course in modal logic or as supplementary reading in an intermediate logic course." (Max A. Freund, Zentralblatt MATH, Vol. 1210, 2011)
"This is mainly an introductory textbook on modal logic containing, apart from standard topics, some very important recent material which is not regularly included in other textbooks. [...] It is important to note that several of the different topics dealt with in the book are accompanied by philosophical remarks." Max A. Freund (San José), taken from his review of the Italian version Modalità e Multimodalità