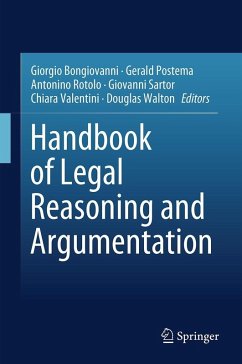 ---
Dieser Download kann aus rechtlichen Gründen nur mit Rechnungsadresse in A, B, BG, CY, CZ, D, DK, EW, E, FIN, F, GR, HR, H, IRL, I, LT, L, LR, M, NL, PL, P, R, S, SLO, SK ausgeliefert werden.
Produktdetails
Verlag: Springer-Verlag GmbH
Seitenzahl: 764
Erscheinungstermin: 2. Juli 2018
Englisch
ISBN-13: 9789048194520
Artikelnr.: 53143343
Contributors. - Introduction.- PART I Basic Concepts for Legal Reasoning.- Chapter 1 Reasons (and Reasons in Philosophy of Law); Giorgio Bongiovanni.- Chapter 2 Reasons in Moral Philosophy; Carla Bagnoli.- Chapter 3 Legal Reasoning and Argumentation; Douglas Walton.- Chapter 4 Norms in Action: a Logical Perspective; Emiliano Lorini.- Chapter 5 Of Norms; Jaap Hage.- Chapter 6 Values; Carla Bagnoli.- Chapter 7 The Goals of Norms; Cristiano Castelfranchi.- Chapter 8 Authority; Kenneth E. Himma.- Chapter 9 The Authority of Law; Veronica Rodriguez-Blanco.- PART II Kinds of Reasoning and the Law.- Chapter 1 Deductive and Deontic Reasoning; Antonino Rotolo.- Chapter 2 Inductive, Abductive, and Probabilistic Reasoning; Burkhard Schafer and Colin Aitken.- Chapter 3 Defeasibility in Law; Giovanni Sartor.- Chapter 4 Analogical Arguments; Bartosz Brozek.- Chapter 5 Choosing Ends and Choosing Means: Teleological Reasoning in Law; Lewis Kornhauser.- Chapter 6 Interactive Decision-Making and Morality; Wojciech Zaluski.- PART III Special Kinds of Legal Reasoning.- Chapter 1 Evidential Reasoning; Marcello Di Bello and Bart Verehij.- Chapter 2 Interpretative Arguments and the Application of the Law; José Juan Moreso and Samuele Chilovi.- Chapter 3 Statutory Interpretation as Argumentation; Fabrizio Macagno, Giovanni Sartor, and Douglas Walton.- Chapter 4 Varieties of Vagueness in the Law; Andrei Marmor.- Chapter 5 Balancing, Proportionality and Constitutional Rights; Giorgio Bongiovanni and Chiara Valentini.- Chapter 6 Coherence and Systematization in Law; Maria Amalia Amaya Navarro.- Chapter 7 Precedent and Legal Analogy; Kevin Ashley.- Chapter 8 Economic Logic and Legal Logic; Lewis Kornhauser.- Index of Names.- Index of Subjects.