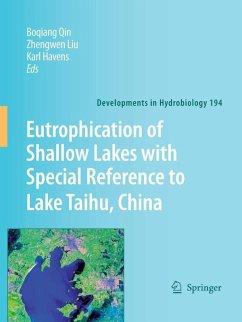 ---
Dieser Download kann aus rechtlichen Gründen nur mit Rechnungsadresse in A, B, BG, CY, CZ, D, DK, EW, E, FIN, F, GR, HR, H, IRL, I, LT, L, LR, M, NL, PL, P, R, S, SLO, SK ausgeliefert werden.
Produktdetails
Verlag: Springer-Verlag GmbH
Erscheinungstermin: 3. Dezember 2007
Englisch
ISBN-13: 9781402061585
Artikelnr.: 37338281
Preface.- Preface.- Introductory Papers.- Environmental issues of Lake Taihu, China.- The art and science of lake restoration.- Physical and Geo-Chemical Processes in Eutrophic Lakes.- Phosphorus dynamics at multiple time scales in the pelagic zone of a large shallow lake in Florida, USA.- Chromophoric dissolved organic matter (CDOM) absorption characteristics in relation to fluorescence in Lake Taihu, China, a large shallow subtropical lake.- Effects of hydrodynamics on phosphorus concentrations in water of Lake Taihu, a large, shallow, eutrophic lake of China.- Total inputs of phosphorus and nitrogen by wet deposition into Lake Taihu, China.- The effects of different electron donors on anaerobic nitrogen transformations and denitrification processes in Lake Taihu sediments.- A 200-year historical modeling of catchment nutrient changes in Taihu basin, China.- Evaluation of biogenic and anthropogenic inputs of aliphatic hydrocarbons to Lake Taihu sediments using biomarkers.- Spatio-temporal distribution of nitrogen in the undulating littoral zone of Lake Taihu, China.- Variations in kinetics of alkaline phosphatase in sediments of eutrophic, shallow, Chinese lakes.- Environmental changes in Lake Taihu during the past century as recorded in sediment cores.- Role of climate and agricultural practice in determining matter discharge into large, shallow Lake Võrtsjärv, Estonia.- Stable isotopic composition of nitrate in Lake Taihu, China, and major inflow rivers.- Distribution and chemical fractionation of heavy metals in recent sediments from Lake Taihu, China.- Vegetation and soil properties in restored wetlands near Lake Taihu, China.- Biological Processes and Ecosystem Responses in Eutrophic Shallow Lakes.- Quantitative studies on phosphorus transference occuring between Microcystis aeruginosa and its attached bacterium (Pseudomonas sp.).- Intracellular phosphorus metabolism and growth of Microcystis aeruginosa in dark/light cycles under various redox potential difference conditions.- The bacterioplankton of Lake Taihu, China: abundance, biomass, and production.- Floating-leaved macrophyte (Trapa quadrispinosa Roxb) beds have significant effects on sediment resuspension in Lake Taihu, China.- Nitrogen dynamics and microbial food web structure during a summer cyanobacterial bloom in a subtropical, shallow, well-mixed, eutrophic lake (Lake Taihu, China).- Different competitive outcomes among four species of cladocerans under different alga combinations of colonial Microcystis spp. and green alga Scenedesmus obliquus.- The effect of temperature on growth characteristics and competitions of Microcystis aeruginosa and Oscillatoria mougeotii in a shallow, eutrophic lake simulator system.- Stability and change of phytoplankton communities in a highly dynamic environment-the case of large, shallow Lake Balaton (Hungary).- Intra-habitat heterogeneity of microbial food web structure under the regime of eutrophication and sediment resuspension in the large subtropical shallow Lake Taihu, China.- Effects of limiting nutrients and N:P ratios on the phytoplankton growth in a shallow hypertrophic reservoir.- Eutrophication Control and Management of Shallow Lakes.- Restoration of shallow lakes by nutrient control and biomanipulation-the successful strategy varies with lake size and climate.- Dredging effects on P status and phytoplankton density and composition during winter and spring in Lake Taihu, China.- Toxicity evaluation of Meiliang Bay, Lake Taihu, China-a drinking water source.- Updating water quality targets for shallow Lake Balaton (Hungary), recovering from eutrophication.- Removal of agricultural non-point source pollutants by ditch wetlands: implications for lake eutrophication control.