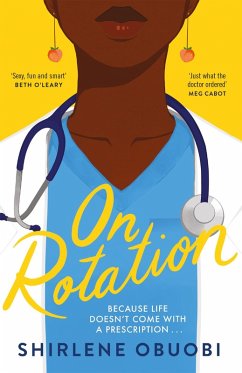 Geräte: eReader

mit Kopierschutz

Größe: 1.19MB

FamilySharing(5)
Andere Kunden interessierten sich
auch
für
'Sexy, fun and smart' BETH O'LEARY 'As a fan of Grey's Anatomy , I couldn't put down On Rotation, and you won't be able to, either... ' MEG CABOT
Ghanaian-American Angela Appiah has checked off all the boxes for the 'Perfect Immigrant Daughter': enroll in an elite medical school; snag a suitable lawyer/doctor/engineer boyfriend, and surround herself with a gaggle of successful and/or loyal friends... But when her boyfriend dumps her, her best friend pulls away, and she bombs the most important exam of her medical career, Angie finds herself in the middle of a quarter life crisis of epic proportions. To make matters worse, her parents are suddenly a lot less proud of their daughter, now that she's not following through with the path
they
chose for her.
Just when things couldn't get any more complicated, enter Ricky Gutierrez - brilliant, thoughtful, sexy, and most importantly, seems to see Angie for who she is instead of what she can represent. Unfortunately, he's also got 'wasteman' practically tattooed across his forehead, and Angie's done chasing mirages of men. Or so she thinks...
For someone who's always been in control, Angie realizes that there's one thing she can't plan on: matters of her heart.
'Narrated by a strong lead with an unforgettable voice, On Rotation is an original romance novel bursting with charm, humor and the most loveable characters. I'm besotted with Angie and her posse!' LIZZIE DAMILOLA BLACKBURN, author of Yinka, Where is Your Huzband?


---
Dieser Download kann aus rechtlichen Gründen nur mit Rechnungsadresse in A, B, BG, CY, CZ, D, DK, EW, E, FIN, F, GR, HR, H, IRL, I, LT, L, LR, M, NL, PL, P, R, S, SLO, SK ausgeliefert werden.
"As a fan of Grey's Anatomy (and Chicago Med!), I couldn't put down On Rotation, and you won't be able to, either. Shirlene Obuobi makes you feel as if you're actually right there with the lovable Angie, and I personally couldn't get enough." - Meg Cabot, New York Times bestselling author

"Smart, funny, and utterly swoonworthy, On Rotation is a layered and deeply compassionate novel of navigating life and love in your twenties. Angie Appiah will be your new best friend." - Grace D. Li, New York Times bestselling author of Portrait of a Thief

"On Rotation is a charming story from start to finish. The ending will melt your heart!" - Tracey Livesay, award-winning author of American Royalty

Fresh, romantic, and hilarious... The story of a Ghanian-American medical student, On Rotation is whip-smart and sharply observed, filled with laugh-out-loud moments while not shying away from heavier issues. With On Rotation, Shirlene Obuobi establishes herself as a writer to watch." - Brenda Janowitz, author of The Liz Taylor Ring

"Humor and honesty leap off the pages of this addictive read. A binge-worthy romance with a hilarious and relatable heroine that will steal your heart from the first sentence." - Jane Igharo, author of Ties That Tether

"Narrated by a strong lead with an unforgettable voice, On Rotation is an original romance novel bursting with charm, humor and the most loveable characters. I'm besotted with Angie and her posse!" - Lizzie Damilola Blackburn, author of Yinka, Where is Your Huzband?

"Let me introduce you to my favorite book of 2022 so far. On Rotation by Shirlene Obuobi, is part rom-com, part coming-of-age story-a book so full of life that I badly missed Angie, Obuobi's protagonist, the moment I finished. It's been a rough couple of years for all of us, so scoop up this completely delightful debut for a shot of joy." - Marie Claire

"Obuobi's debut features a winning cast of characters who alternatively help and hinder Angie, whose first-person narration is warm and relatable...Obuobi ably navigates plot twists and emotional turns while addressing millennial angst and issues facing Black women. A funny, emotional page-turner that will have readers rooting for Angie." - Booklist (starred review)

"Author Obuobi, a physician and cartoonist, is in her wheelhouse chronicling the hectic, and sometimes solitary, life of a medical student. The often witty footnotes, frequently describing medical jargon or Ghanaian traditions, add an amusing flair to Angie's personality, but the novel's true strength shines in its more serious moments... Guaranteed to make your heart beat faster." - Kirkus Reviews

"This effervescent story is a treat." - Publishers Weekly