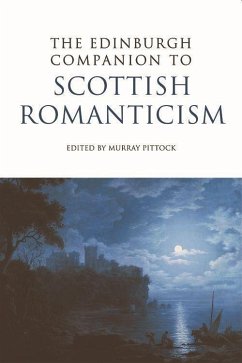 ---
The Edinburgh Companion to Scottish Romanticism Edited by Murray Pittock Bringing together an international group of experts, this companion explores a distinctly Scottish Romanticism. Discussing the most influential texts and authors in depth, the original essays shed new critical light on texts from Macpherson's Ossian poetry to Hogg's Confessions of a Justified Sinner, and from Scott's Waverley Novels to the work of John Galt. As well as dealing with the major Romantic figures, the contributors look afresh at ballads, songs, the idea of the bard, religion, periodicals, the national tale, the picturesque, the city, language and the role of Gaelic in Scottish Romanticism. Key Features * The first and only student guide to Scottish Romanticism capturing the best of critical debate while providing new approaches * Contributors include: Ian Duncan (UC Berkeley), Angela Esterhammer (Zurich University), Peter Garside (Edinburgh University), Crawford Gribben (Trinity College, Dublin), Andrew Monnickendam (Barcelona University), Fiona Stafford (Oxford University) and Fernando Toda (Salamanca University) all who have themselves helped to define approaches to the period Murray Pittock is Head of the College of Arts and Vice-Principal at the University of Glasgow. ISBN 978 0 7486 3846 8 Edinburgh University Press 22 George Square Edinburgh EH8 9LF www.euppublishing.com Cover design: www.paulsmithdesign.com Cover image: Culzean by Moonlight, Alexander Nasmyth © National Trust for Scotland. Licensor: www.scran.ac.uk
Produktdetails
Edinburgh Companions to Scotti
Verlag: EDINBURGH UNIV PR
New
Seitenzahl: 264
Altersempfehlung: ab 22 Jahre
Erscheinungstermin: Mai 2011
Englisch
Abmessung: 241mm x 152mm x 20mm
Gewicht: 522g
ISBN-13: 9780748638451
ISBN-10: 0748638458
Artikelnr.: 33871979
Series Editors' Preface
Introduction: What is Scottish Romanticism?, Murray Pittock
Section 1: The Scottish Public Sphere: Themes, Groups and Identities
1. Ballads and Chapbooks, Steve Newman
2. Romantic Macpherson, Fiona Stafford
3. Scottish Song, Lyric Poetry and the Romantic Composer, Kirsteen McCue
4. Gaelic Literature and Scottish Romanticism, Thomas Clancy
5. Travel Writing and the Picturesque, Matthew Wickman
6. Urban Space and Enlightened Romanticism, Ian Duncan
7. Periodicals and Public Culture, Alex Benchimol
8. The Scottish National Tale, Andrew Monnickendam
9. Religion and Scottish Romanticism, Crawford Gribben
Section 2: Authors and Texts
10. Robert Burns and Romanticism in Britain and Ireland, Nigel Leask
11. Walter Scott's Romanticism: a Theory of Performance, Caroline McCracken-Flesher
12. Byron, Brean Hammond
13. John Galt's Fictional and Performative Worlds, Angela Esterhammer
14. The Private Memoirs and Confessions of a Justified Sinner, Peter Garside
15. The function of linguistic variety in Walter Scott's The Heart of Midlothian, Fernando Toda
Endnotes
Further Reading
Notes on Contributors
Index.