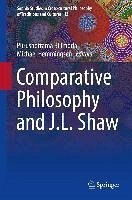 Andere Kunden interessierten sich
auch
für
Professor Shaw's untiring effort to solve some of the problems of contemporary philosophy of language, logic, epistemology, metaphysics and morals from the perspectives of classical Indian philosophers or systems of philosophy is deserving of a tribute. Chapters in this volume reflect the diverse aspects of Shaw's contribution to comparative philosophy and are organised into four sections: Language, Epistemology, Mathematics and Logic, Ethics and Politics.
These chapters would appeal to anyone interested in philosophy or East-West thinking, including students and professionals. Graduates and researchers with interests in epistemology, metaphysics, political philosophy, logic and non-western philosophy will find this work highly relevant.
Regarding the editors, Purushottama Bilimoria is a honorary professor at Deakin University and research fellow at the University of Melbourne in Australia, a Visiting Professor and Lecturer at University of California, Berkeley and Graduate Theological Union; Michael Hemmingsen is a PhD Candidate in the Department of Philosophy at McMaster University, Ontario, Canada.
---
Dieser Download kann aus rechtlichen Gründen nur mit Rechnungsadresse in A, B, BG, CY, CZ, D, DK, EW, E, FIN, F, GB, GR, HR, H, IRL, I, LT, L, LR, M, NL, PL, P, R, S, SLO, SK ausgeliefert werden.
Produktdetails
Verlag: Springer-Verlag GmbH
Erscheinungstermin: 03.09.2015
Englisch
ISBN-13: 9783319178738
Artikelnr.: 43789719
Introduction; Purushottama Bilimoria & Michael Hemmingsen.- Part I Language.- J. L. Shaw on Meaning; Partha S. Das.- Noun Phrases and Truth in the Nyaya and Western Pragmatics; David Lumsden.- Controversy over the Availability of Frege's Sense in Indian Philosophy of Language: The Case of J.L. Shaw and the Nyaya; Amitabha Das Gupta.- The Radical Emptiness of Empty Terms: Saving the Buddhists from the Nyaya; Fred Kroon.- The Nyaya on Identity Relation and Identity Statements; Tamoghna Sarkar.- Part II Epistemology.- The Relevance of Indian Epistemology to Contemporary Western Philosophy; J.L. Shaw.- Nyaya, J. L. Shaw and Epistemic Luck; Payal Doctor.- The Nyaya Misplacement Theory of Illusion & the Metaphysical Problem of Perception; Anand Jayprakash Vaidya.- Contents of Experience: Revisited; Monima Chadha.- Part III Mathematics and Logic.- What Part of 'Not' Don't We Understand?; Nicholas Griffin.- Negation (Abhava) in the Mimasa as Real Non-Existent and a Distinctive Pramana; Purushottama Bilimoria.- The Logical Structure of the Third and Fifth Definitions in the Vyaptipañcaka Section of Gangesa's Tattvacintamani; Toshihiro Wada.- Mathematical Existence via Necessary Properties: Some Conceptual Challenges to J.L. Shaw; Rafal Urbaniak.- Application of Nyaya to Intelligent Systems; G.S. Mahalakshmi.- Part IV Ethics.- Artificial Intelligences and Karma: An Evaluation of Information Technology in Light of J.L. Shaw's Concept of Moral Free Will; Papia Mitra.- Conceptions and Intuitions of the Highest Good in Buddhist Philosophy: A Meta-Ethical Analysis; Gordon F. Davis.