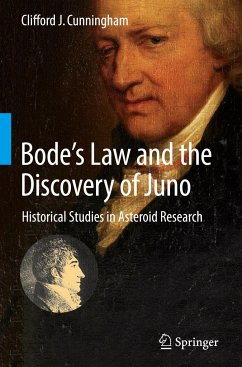 Andere Kunden interessierten sich
auch
für


When Juno was discovered no one could have imagined its study would call into question Newton's law of gravity, or be the impetus for developing the mathematics of the fast Fourier transform by Carl Gauss. Clifford Cunningham, a dedicated scholar, opens to scrutiny this critical moment of astronomical discovery, continuing the story of asteroid begun in earlier volumes of this series.

The fascinating issues raised by the discovery of Juno take us on an extraordinary journey. The revelation of the existence of this new class of celestial bodies transformed our understanding of the Solar System, the implications of which are thoroughly discussed in terms of Romantic Era science, philosophy, poetry, mathematics and astronomy.

The account given here is based on both English and foreign correspondence and scientific papers, most of which are translated for the first time.

Produktdetails
Artikelnr. des Verlages: 978-3-319-32873-7
1st ed. 2017
Erscheinungstermin: 14. Juni 2017
Englisch
Abmessung: 241mm x 159mm x 22mm
Gewicht: 682g
ISBN-13: 9783319328737
ISBN-10: 3319328735
Artikelnr.: 44711379
Preface.- Hegel, Bode's Law and the Missing Planet.- The Discovery of Juno.- Juno: A Driving Force for Change.- The Music of Spheres.- The Big Four Asteroids in Verse.- Letters: Bessel with Gauss and Olbers.- The Gauss-Olbers Letters.- The Harding-Gauss Letters.- Letters: Gauss with Bode and Zach.- The Oriani-Piazzi Letters.- Schroeter's Asteroid Book.- Scientific Papers on Juno.- The Astronomical Instruments.- The Observatories.- Appendix 1: The 1802 Hungarian Letter of Antal Decsy.- Appendix 2: The Historical Development of the Orbital Elements of Juno.- References.- Index.
"What I like about this book is its comprehensive nature and its thoroughness. Very, very little is left out. Anyone who deemed to mention the asteroid Juno in the early decades of the 19th Century is in, referenced, illustrated, described, translated into English, and quoted in full. We get the science, the research papers, ... of the observers and thinkers, and descriptions of their observatories and instruments. The book is a fount of information and a joy." (David W. Hughes, The Observatory, Vol. 138 (1266), October, 2018)