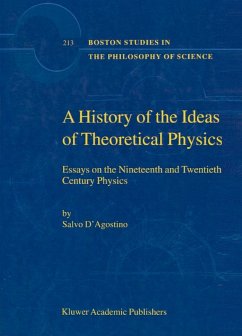 Produktdetails
Boston Studies in the Philosophy and History of Science .213
Softcover reprint of the original 1st ed. 2000
Seitenzahl: 400
Erscheinungstermin: 30. November 2001
Englisch
Abmessung: 244mm x 156mm x 21mm
Gewicht: 560g
ISBN-13: 9781402002441
ISBN-10: 1402002440
Artikelnr.: 21573903
Introduction. Part One: from Mechanics to Electrodynamics. 1. A Consideration on the Changing Role of Mathematics in Ampère's and Weber's Electrodynamics. 2. A Survey of Theories of Units and Dimensions in Nineteenth-Century Physics. 3. An Historical Role for Dimensional Analysis in Maxwell's Electromagnetic Theory of Light. 4. Problems of Theoretical Physics in the Second Half of the Nineteenth Century. Part two: Electromagnetic Waves. 5. German Electrodynamics in the 1870's. 6. Hertz's Experiments on Electromagnetic Waves. 7. Hertz's 1884 Theoretical Discovery of Electromagnetic Waves. 8. A Foundation for Theoretical Physics in Hertz's Introduction to Principien der Mechanik. 9. On Boltzmann's Mechanics and His Bild Conception of Physical Theory. Part Three: From Relativity to Quantum Theory. 10. Einstein's Correspondence Criterium and the Construction of General Relativity. 11. Einstein's Life-Long Doubts on the Physical Foundations of the General Relativity and Unified Field Theories. 12. Correspondence and Complementarity in Niels Bohr's Papers 1925-1927. 13. From the 1926 Wave Mechanics to a Second-Quantization Theory: Schrödinger's New Interpretation of Wave Mechanics and Microphysics in the 1950's. 14. Conclusions. Notes. Bibliography: Primary Sources. Bibliography: Secondary Sources. Index.