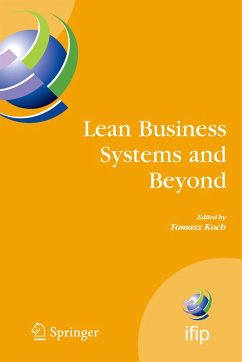 Andere Kunden interessierten sich
auch
für


The IFIP series publishes state-of-the-art results in the sciences and technologies of information and communication. The scope of the series includes: foundations of computer science; software theory and practice; education; computer applications in technology; communication systems; systems modeling and optimization; information systems; computers and society; computer systems technology; security and protection in information processing systems; artificial intelligence; and human-computer interaction. Proceedings and post-proceedings of refereed international conferences in computer science and interdisciplinary fields are featured. These results often precede journal publication and represent the most current research. The principal aim of the IFIP series is to encourage education and the exchange of information about all aspects of computing.
---
Lean Manufacturing has proved to be one of the most successful and most powerful production business systems over the last decades. Its application enabled many companies to make a big leap towards better utilization of resources and thus provide better service to the customers through faster response, higher quality and lowered costs. Lean is often described as "eyes for flow and eyes for muda" philosophy. It simply means that value is created only when all the resources flow through the system. If the flow is stopped no value but only costs and time are added, which is muda (Jap. waste). Since the philosophy was born at the Toyota many solutions were tailored for the high volume environment. But in turbulent, fast-changing market environment and progressing globalization, customers tend to require more customization, lower volumes and higher variety at much less cost and of better quality. This calls for adaptation of existing lean techniques and exploration of the new waste-free solutions that go far beyond manufacturing. This book brings together the opinions of a number of leading academics and researchers from around the world responding to those emerging needs. They tried to find answer to the question how to move forward from "Spaghetti World" of supply, production, distribution, sales, administration, product development, logistics, accounting, etc. Through individual chapters in this book authors present their views, approaches, concepts and developed tools. The reader will learn the key issues currently being addressed in production management research and practice throughout the world.
Produktdetails
IFIP Advances in Information and Communication Technology 257
Softcover reprint of hardcover 1st ed. 2008
Seitenzahl: 516
Erscheinungstermin: 24. November 2010
Englisch
Abmessung: 235mm x 155mm x 27mm
Gewicht: 773g
ISBN-13: 9781441945822
ISBN-10: 1441945822
Artikelnr.: 32135344
Lean Production Systems for Dynamic Marketplaces.- A Basic Study of Auction-based Planning and Scheduling for Cell Manufacturing.- Sizing of Heijunka-controlled Production Systems with Unreliable Production Processes.- A New Approach for Finite Capacity Planning in MRP Environment.- Preemptive Jobs Scheduling on Parallel Machines with Setup Times and Renewable Resources.- Dynamic Production Management Architecture Considering Preparative Operation.- Planning and Balancing of Disassembly Systems.- Demand Planning & Control - Handling Multiple Perspectives Through a Holistic Approach to Hierarchical Planning.- Review of an ERP System Supporting Lean Manufacturing.- Orders Loading and Release in Flow Shops including Outsourcing Networks.- A Service Oriented Architecture to Support Industrial Information Systems.- Development of Promise Data Structure.- Streamlining Asset Maintenance throughout Analysis of its Usage Data.- Development of an Information-interoperable Environment Based on Open Technologies for Lean Production Systems.- The Operations Excellence Audit Sheet.- Comparing Performance Measures for the Trade Off of Flow Time and Throughput in Complex Manufacturing Systems.- A Method for Measuring Operational and Financial Performance of a Production Value Stream.- Reference Models for Mass Customisation Production of High Fashionable Products: Application to the Shoe Manufacturing Domain.- Lean Manufacturing Systems Optimisation Supported by Metamodelling.- Integration of Factory Planning and ERP/MES Systems: Adaptive Simulation Models.- Using Simulation-Generated Operating Characteristics Curves for Manufacturing Improvement.- Experimental Exploration of Decision Making in Production-inventory System.- Building a Reference Model for the PLM Processes in Engineering and Contracting Sector.- Integration in Manufacturing Systems.- Which Manufacturing Logistics Decisions are Supported by Operational Research? A Literature Survey.- The Selected Problems of Lean Manufacturing Implementation in Mexican SMEs.- Experiences with Lean Management.- Implementing Lean Manufacturing in High-mix Production Environment.- Implementing Lean Management in the Romanian Industry.- Lean Transformation of Multinational Concerns.- Orchestrating Lean Implementation.- Set-up Reduction for Lean Cells and Multi-Machine Situations.- Lean and Self Directed Teamwork-Differences, Difficulties and Future Developments - A Case Study.- Bridging Production Process with Sales and Distribution.- Gathering Production Processes of Services and Goods: Towards the Mixed Enterprise.- A Lifecycle Simulation Framework for Production Systems.- From Order to Delivery: An Integrated Process Approach for Customer Satisfaction.- Lean Information Processing in the Specification Process.- Value Chains.- Exploring Competitive Advantage through Lean Implementation in the Aerospace Supply Chain.- Intercultural Communication Management and Lean Global Supply Chains.- Building Global Workflow From The Scratch.- Review of After-Sales Service Concepts.- Reducing Turbulences in Industrial Supply Chains.- Improving Performance of Supply Chains by Leveraged Hard Solutions and Business Cultures.- Architectural Frameworks for Business Information System Analysis and Design.- The Lea®n Extended Enterprise.- Modelling Demand-driven Chain Networks using Multiple CODPs.- Critical Aspects of Information and Communication Technology in Vendor Managed Inventory.- Hybrid Modeling Approach for Supply-Chain Simulation.- Concept for Quality Control Management Services in Distributed Design Networks - Conceptual Paper.- Improving Service Processes.- Need to Develop Best Practices for Business Related Services (BRS).- Lean Healthcare. An Experience in Italy.- Working Time Configuration in Hospitals Using Personnel-oriented Simulation.