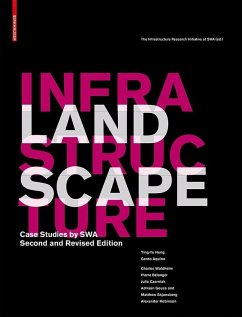 Infrastructure, as we know it, no longer belongs in the exclusive realm of engineers and transportation planners. This book, now available in a second revised edition,examines the potential of landscape as infrastructure via essays by notable authors and supporting case studies by SWA landscape architects and urban designers.





Ying-Yu Hung is a principal of SWA Los Angeles, co-founder of Infrastructure Research Initiative, and a Studio Professor at the University of Southern California. Her work focuses on interactions between complex urban systems, which argues that the potential of landscape can be maximized if examined within the context of infrastructure and urbanism.
Hung was the recipient of multiple awards including the 2009 ASLA National Honor Award for Zobon City Sculpture Garden, and 2008 ASLA National Honor Award on Chongming Island North Lake Region - both in Shanghai, China. Ying-Yu Hung received her Master of Landscape Architecture degree in 1994 from Harvard University Graduate School of Design.

Gerdo Aquino is the new president of SWA and adjunct associate professor of landscape architecture at the University of Southern California. He is a landscape architect and urban designer interested in issues of urbanism, landscape infrastructure, transit and historic ecologies. Gerdo Aquino received his Master of Landscape Architecture in 1996 from Harvard University Graduate School of Design and his undergraduate from the University of Florida.

Pierre Bélanger is a landscape architect and Associate Professor at the Harvard University Graduate School of Design. His academic research and public work focus on the convergence of urbanism, landscape, and ecology in the interrelated fields of planning, design, and engineering. Bélanger is editor of the Landscape Infrastructures DVD (2008) and his most recent publications include The Agronomic Landscape (2011), Regionalization (2010), Redefining Infrastructure (2010), Landscape as Infrastructure (2009). Bélanger is an Advisor to the US Army Corps of Engineers, a government-appointed member of the Ontario Food Terminal Board, and recipient of the Canada Professional Prix-de-Rome.

Charles Waldheim is the John E. Irving Professor of Landscape Architecture, Chair of the Department of Landscape Architecture at Harvard University Graduate School of Design, and principal of Urban Agency, a multi-disciplinary consultancy in design and contemporary urbanism. His teaching and research examine the relationships between landscape and contemporary urbanism. Waldheim coined the term 'landscape urbanism' to describe the recent emergence of landscape as a medium of urban order for the contemporary city. Waldheim has authored numerous articles and chapters on the topic, and edited The Landscape Urbanism Reader (2006).

Julia Czerniak is an Associate Professor of Architecture at Syracuse University and the inaugural Director of UPSTATE. She is also a registered landscape architect and founder of CLEAR, an interdisciplinary design practice. Czerniak's design work focuses on urban landscapes in the Rust-Belt cities of the United States, and it has been recognized with numerous awards. Czerniak is editor of Large Parks (2007) and Case: Downsview Park Toronto (2001), that focus on contemporary design approaches to public parks and the relationship between landscape and cities. Other writings include essays in Landscape Alchemy: The Work of Hargreaves Associates (2009); Fertilizers: Olin Eisenman (2006); Landscape Urbanism (2006); and Assemblage 34 (1998).

Adriaan Geuze, landscape architect and urban designer is founder of West 8 urban design and landscape architecture, a team of architects, urban designers, landscape architects and industrial designers with offices in Rotterdam, Brussels, Toronto, and New York. After winning the prestigious Prix-de-Rome, Geuze established a leading international reputation with his unique approach to planning and designing the public environment, relating contemporary culture, urban identity, architecture, public space, and environmental engineering. Geuze has authored numerous books and essays, including Mosaics (2007), Polders! (2005), Colonizing the Void (1996), In Holland stat een huis (1995), and Accelerating Darwin (1993).

Matthew Skjonsberg, architect and urban designer, is a practitioner with strong roots in design theory and research, and works closely with Adriaan Geuze. He has obtained degrees from Taliesin and ETH-Zurich, and has an active career in research and education, including recent lectures at the Berlage Institute, Harvard University Graduate School of Design, and University of Texas at Austin. He has authored a number of essays in the field of urban planning and his work has been published in various contexts, including Explorations in Architecture: Teaching, Design, Research (Reto Geiser, ed. 2008), and Cities of Change: Addis Ababa (Marc Angélil, ed. 2009).

Alexander Robinson, a graduate of Harvard University Graduate School of Design, is an Adjunct Professor of Landscape Architecture at the University of Southern California and an independent practitioner. He has worked on many large scale landscape infrastructure projects, including a two year master plan for the Los Angeles River. As an associate in the Los Angeles office of SWA, his focus was on advancing landscape practice through expertise and frameworks fostered in his book, Living Systems: Innovative Technologies and Materials in Landscape Architecture (2007) - a hybrid theoretical and practical exploration of the new potentials of landscape architecture materiality. Recent research is devoted to urban heat island infrastructure and is exhibited at the Shanghai World Expo and Xi'an 2011 Horticultural Exhibit.


Produktdetails
Verlag: Birkhäuser
Seitenzahl: 197
Erscheinungstermin: 28.05.2013
Englisch
ISBN-13: 9783034615853
Artikelnr.: 44413252