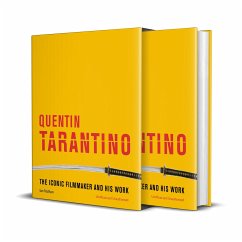 Andere Kunden interessierten sich
auch
für


Through in-depth and informative text written by renowned film journalist Ian Nathan, this book examines the entirety of Tarantino's work, including his early writing on screenplays such as True Romance and Natural Born Killers, his break-out directorial debut Reservoir Dogs and the career-defining Pulp Fiction, as well as his later iconic films, such as Kill Bill Volumes 1 and 2, Inglourious Basterds and Django Unchained. You'll also go behind the scenes of Tarantino's latest epic, Once Upon a Time in Hollywood. As you make your way through Tarantino's incredible career, discover what inspired him, his working methods and the breadth of his talent.

With a visually arresting design that mimics Tarantino's approach to film-making and chapters organized by film, the pages are brimming with images taken on set and behind the scenes.

This is the ultimate celebration for any Tarantino fan.

Unauthorised and Unofficial.
'Quentin Tarantino: The Iconic Filmmaker and His Work is a gloriously presented book bursting at the seams with enough information and detail to make even the mercurial Tarantino himself dizzy. For fans of Quentin Tarantino - or simply of those who are fans of cinema, period - this is must-read that you'll struggle to put down' Starburst