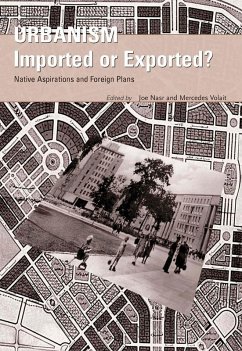 Andere Kunden interessierten sich
auch
für
---
This book redresses the under-representation in existing English-language literature, of the global formation and development of global cities which have been informed by the diffusion of Western ideas and building principles beyond the Western world The modes of diffusion of ideas that shape planned environments, and the ways these ideas are realized, have been gaining prominence as subjects of study and discussion among planning historians and others. Recently, some researchers have begun to approach the relations between actors and stakeholders in the processes of planning diffusion in increasingly complex and ambiguous ways. The natives in developing countries, whether colonial or post-colonial, are now being recognized as full-fledged participants in the shaping of the built environment, with a variety of roles to play and means to play them, even if they frequently face many constraints to their actions. The specific traits of the indigenous are even in question: ultimately, who are the 'locals'? The research presented here recognises the importance of both provider and recipient as essential and influential entities within this diffusion process. This book raises important conceptual questions as to the identities and roles of the actors involved and looks at the methodological implications for historians and the new challenges that arise from this questioning of a long-standing traditional view.
Produktdetails
Verlag: Wiley & Sons
Seitenzahl: 256
Erscheinungstermin: September 2003
Englisch
Abmessung: 244mm x 169mm x 32mm
Gewicht: 678g
ISBN-13: 9780470851609
ISBN-10: 0470851600
Artikelnr.: 11428865
Preface.Introduction: Transporting Planning (Joe Nasr and Mercedes Volait).Chapter 1. Writing Transnational Planning Histories (Anthony D. King).PART 1: THE LATEST MODELS.Chapter 2. Making Cairo Modern (1870-1950): Multiple Models for a 'European-style' Urbanism (Mercedes Volait).Chapter 3. The Transformation of Planning Ideas in Japan and its Colonies (Carola Hein).Chapter 4. Learning from the US: the Americanisation of Western Urban Planning (Stephen V. Ward).PART 2: CITY-BUILDING, STATE-BUILDING AND NATION-BUILDING.Chapter 5. Urbanism as Social Engineering in the Balkans (1820-1920): Reform Prospects and Implementation Problems in Thessaloniki (Alexandra Yerolympos).Chapter 6. From 'Cosmopolitan Fantasies' to 'National Traditions': Socialist Realism in East Berlin (Roland W. Strobel).Chapter 7. The Preservation of Egyptian Cultural Heritage through Egyptian Eyes: The Case of the Comité de Conservation des Monuments de l'Art Arabe (Alaa El-Habashi )PART 3: POWERFUL SUBJECTS.Chapter 8. From Europe to Tripoli in Barbary, via Istanbul: Municipal Reforms in an Outpost of the Ottoman Empire Around 1870 (Nora Lafi).Chapter 9. Beirut and the 'Etoile' Area: An Exclusively French Project? (May Davie).Chapter 10. Local Wishes and National Commands: Planning Continuity in French Provincial Towns in the 1940s (Joe Nasr).PART 4: FOREIGN EXPERTS, LOCAL PROFESSIONALS.Chapter 11. Foreign Hires: French Experts and the Urbanism of Buenos Aires, 1907-32 (Alicia Novick).Chapter 12. Politics, Ideology and Professional Interests: Foreign versus Local Planners in Lebanon under President Chehab (Eric Verdeil).Chapter 13. Towards Global Human Settlements: Constantinos Doxiadis as Entrepreneur, Coalition-Builder and Visionary (Ray Bromley).Contributor Biographies.Index.