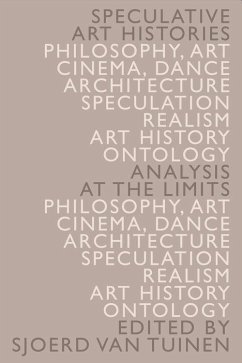 Produktdetails
Verlag: EDINBURGH UNIV PR
Seitenzahl: 352
Erscheinungstermin: 11. September 2017
Englisch
Abmessung: 231mm x 164mm x 17mm
Gewicht: 543g
ISBN-13: 9781474421058
ISBN-10: 1474421059
Artikelnr.: 47878023
Acknowledgements; Introduction
Sjoerd van Tuinen; 1. Asynchronous Present Past. Against the Regime of (Aesthetical) Correlationism
Armen Avanessian; 2. (Dis)enchanted Taiwanese Cinema
Schizoanalytic Belief
and the Actuality of Animism
Erik Bordeleau; Art Historical Systems: 3. Attractors and Locked-In Art: Art History as a Complex System
Francis Halsall; 4. Enduring Habits and Artwares
Adi Efal; 5. Mood (Stimmung) / Blandness (Fadeur): On Temporality and Affectivity
Vlad Ionescu; 6. The Plasticity of the Real: Speculative Architecture
Elisabeth von Samsonow; 7. Expressive Things: Art Theories of Henri Focillon and Meyer Schapiro Reconsidered
Kerstin Thomas; 8. Sympathy and Gothic ontology
Lars Spuybroek; 9. Serpentine Life: The Nature of Movement in Gothic
Mannerism
and Baroque
Sjoerd van Tuinen; 10. Space Always Comes After: It Is Good When It Comes After
It Is Good Only When It Comes After
Andrej Radman; 11. Speculation
Critique
Constructivism: Notions for Art History
Kamini Vellodi; 12. The Potentiality of Art
the Force of Images
and Aesthetic Intensities
Bertrand Prévost; Experiments: 13. Impossible! Bergson after Duchamp after Caillois
Sarah Kolb; 14. Economies of the Wild: Speculations on Constant's New Babylon and Contemporary Capitalism
Bram Ieven; 15. From Etienne Souriau's L'ombre de Dieu to Mats Ek's Shadow of Carmen
Fleur Courtois-l'Heureux; Author's biographies.