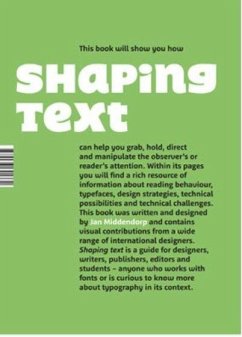 Andere Kunden interessierten sich
auch
für


Shaping Text takes a practical and broad approach to typography. It is aimed at design students and graphic designers, and also at those who are concerned with content: writers, editors and publishers. Showing a wide range of examples from first-rate designers across the world, the book examines why and how typographic designs work well in a given context. Particular attention is given to the team play between the text itself - written language - and the design - the shaping of the text - to form a new, multi-level visual message with a complex content.

Many textbooks on typography look at the details of type and lettering first, often taking a historical approach, then zoom out to gradually reveal a larger whole. Shaping Text works the other way around. It starts by looking at graphic products - in print, on the screen and in the environment - and then examines the constituting elements, including type, image, ornament, layout, and colour. Historical examples are used as references for most genres of text-shaping; a chronological overview of type design and printing techniques forms a lengthy appendix rather than the core of the book.

Finally Shaping Text is firmly rooted in contemporary design praxis. It discusses the state of the art in type design and technology, and tackles problems and questions that font users may be struggling with. Besides being a typographic writer and consultant for leading companies such as FontShop and MyFonts, the author has worked as a graphic designer and teacher; Shaping Text reflects this broad experience with typographic form and content.
Produktdetails
Verlag: BIS / BIS Publishers
Artikelnr. des Verlages: 846270
Seitenzahl: 175
Erscheinungstermin: Mai 2012
Englisch
Abmessung: 268mm x 220mm x 15mm
Gewicht: 650g
ISBN-13: 9789063692230
ISBN-10: 9063692234
Artikelnr.: 26574794