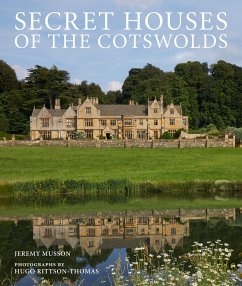 Andere Kunden interessierten sich
auch
für


Author and architectural historian, Jeremy Musson, and Cotswolds-based photographer Hugo Rittson Thomas, offer privileged access to twenty houses, from castles and manor houses, as well as eighteenth- and nineteenth-century mansions, revealing their history, architecture and interiors, in the company of their devoted owners.

In the footsteps of artists and designers including Humphry and George Repton, and Victorian visionary, William Morris, who inspired the arts and crafts movement, and others such as Detmar Blow, Norman Jewson, Clough Williams-Ellis
and Oliver Hill, we find a series of fascinating country houses of different sizes and atmospheres, which have shaped the English identity. Each house has their own story, but their distinctive honey-coloured stone walls, set amongst rolling
hills, in different ways express the ideals of English life.

Most of the houses included here are privately owned and not usually open to the public. In this beautifully produced book, they can now be enjoyed through the eyes of their owners, as well as an experienced architectural historian, and an award-winning photographer.
Produktdetails
Artikelnr. des Verlages: 302924
Seitenzahl: 144
Erscheinungstermin: 21. Februar 2018
Englisch
Abmessung: 277mm x 235mm x 25mm
Gewicht: 1051g
ISBN-13: 9780711239241
ISBN-10: 071123924X
Artikelnr.: 48852786
The 20 houses in Secret Houses of the Cotswolds are as follows:

1 Asthall Manor, an early seventeenth-century manor house where the famous Mitford sisters grew up, with a romantic garden designed by the Bannermans in 1998 and host to a bi-annual sculpture exhibition.
2 Broughton Castle is a medieval moated house, remodelled in the Tudor period, with gatehouse, great hall, and medieval chapel; it had been inherited by the Fiennes family in 1451, who live there still. William Fiennes wrote a successful non-fiction book about growing up at the castle with his ill brother. Shakespeare in Love and Wolf Hall were both filmed here.
3 Burford Priory is a stately sixteenth-century house on the edge of the picturesque town of Burford; home of the Speaker of the Long Parliament, between 1949 and 2008 it was home to nuns and monks, but has since then been restored as a family home by Matthew Freud.
4 Campden House near Chipping Campden is a traditional gabled Cotswold country house, dating back to the seventeenth century, remodelled in the nineteenth, and then restored and adapted by arts and crafts architect Norman Jewson, with gardens laid out with advice from Rupert Golby.
5 Chavenage is a picturesque sixteenth-century manor house near Tetbury with strong Civil War associations and home to the Lowsley-Williams family since the 1890s, who run it as a traditional estate, familiar today as 'Trenwith' from the recent tv series of Poldark were filmed.
6 Cornwell Manor, a delightful mid eighteenth-century Palladian house with terraced gardens, was restored in the late 1930s by architect Clough Williams-Ellis of Portmerion fame, and has been home since the 1950s to the Ward family.
7 Duck End House is a miniature early seventeenth-century manor house restored by art expert Philip Mould (presenter of BBC1's Fake or Fortune?) and his wife Catherine. It was previously owned by Penelope Lively the novelist who wrote many of her novels here.
8 Daneway House, near Sapperton, is a fourteenth century manor house and a 1670s short tower, admired and restored by early twenty-century arts and crafts idealists, Ernest Gimson and Sidney Barnsley; it has been admired by artists and writers ever since.
9 Duns Tew Manor is a lovely example of a smaller classical early eighteenth-century Cotswolds house, recently remodelled and extended, with a seventeenth-century dovecote and extensive new gardens, to create a comfortable family houses for the twenty-first century.
10 Frampton Court, a handsome and little altered 1730s classical house, with a part-baroque, part-Palladian character, a centre block with pavilions wings, built for the same family who own it now, landowners in this place since the twelfth century,
11 Hilles House, the Arts and Crafts hilltop home near Painswick designed by the arts and crafts architect Detmar Blow for himself, still lived in by the Blow family, and made famous by the late Issie Blow, fashion guru.
12 Hillside Farm is a new country house on the edge of the Oxfordshire village of Adlestrop, built for a family to designs by Craig Hamilton, in a neo-classical style, with interiors of a modern lightness and home to a collection of modern art
13 Notgrove Manor, a little known manor house and estate village, with extensive gardens, owned by the Acland family, and hidden away in a remote bowl valley
14 Owlpen Manor is the ideal small medieval and Tudor manor house of the Cotswolds district, lovingly restored by Sir Nicholas and Lady Mander since the 1970s, with its remarkable terraced gardens dating to the early eighteenth century.
15 Sarsden House, a 1680s house extended and remodelled in phases in the early nineteenth-century, by Humhrey and George Repton; recently restored by Tony and Rita Gallagher, and previously the home of MP Sean Woodward.
16 Stanway House, a romantic medieval and Jacobean manor house, remodelled in the 1720s, and still in the hands of the family who have owned it since the sixteenth century, the home of the Earl of Wemyss, who has recently restored the eighteenth-century water garden and single jet fountain of 300ft.
17 Sudeley Castle, once home to Queen Katherine Parr, the surviving wife of King Henry VIII, it had become ruinous before being restored by the Dent-Brocklehurst family in the nineteenth century, the current chatelaine Lady Ashcombe has carried out a major restoration. Sudeley is one of the inspirations for Wodehouse's Blandings Castle.
18 Upton House, near Tetbury was built in the 1730s, and is one of the finest classical houses of the Cotswolds, where Kenneth Clark hosted artists in the second world war; recently restored and extended by Roger Seelig it epitomises an English ideal.
19 Wardington Manor a handsome gabled, originally early seventeenth-century manor house near Banbury restored after a major fire in 2004 and now owned by the Elworthy family, and the base of Bridget Elworthy's 'Land Gardeners'.
20 Wormington Grange, near Broadway, was begun in the 1770s, with a new neo-classical entrance front added in the 1820s, to form a stately country house, now home of furniture expert John Evetts , who has formed a collection of pictures for the house.