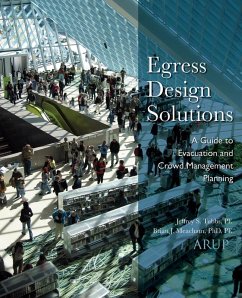 Produktdetails
Verlag: Wiley & Sons; Wiley
Artikelnr. des Verlages: 14671956000
Seitenzahl: 544
Erscheinungstermin: Mai 2007
Englisch
Abmessung: 241mm x 212mm x 40mm
Gewicht: 1355g
ISBN-13: 9780471719564
ISBN-10: 0471719560
Artikelnr.: 21540774
Foreword. Acknowledgments. Introduction. St. Lawrence University Laboratory Building. Dallas-Fort Worth International Airport. International Finance Center. Overview. Myths and Misconceptions. Summary. References. Part 1. Background. 1. Building Codes and Regulations. History and Overview of Building and Fire Codes in the United States. Model Codes. Scope of Building and Fire Codes. Application of Building and Fire Codes. Responsibilities. ICC Codes and Egress. NFPA Codes. Evolution to Performance-Based Codes. Looking to the Future. References. Recommended Reading. 2. Historic Events. Iroquois Theater
Chicago
Illinois
1903. Triangle Shirtwaist Fire
New York
New York
1911. Italian Hall Disaster
Calumet
Michigan
1913. Rhythm Club
Natchez
Mississippi
1940. Cocoanut Grove Nightclub Fire
Boston
Massachusetts
1942. Ringling Brothers
Barnum & Bailey Circus Tent Fire
Hartford
Connecticut
1944. Our Lady of Angels School Fire
Chicago
Illinois
1958. Hartford Hospital Fire
Hartford
Connecticut
1961. Beverly Hills Supper Club Fire
Southgate
Kentucky
1977. The Who Concert
Cincinnati
Ohio
1979. MGM Grand Fire
Las Vegas
Nevada
1980. Dupont Plaza
San Juan
Puerto Rico
1986. World Trade Center Bombing
New York
New York
1993. World Trade Center Collapse
New York
New York
2001. E2 Nightclub
Chicago
Illinois
2003. The Station Nightclub Fire
West Warwick
Rhode Island
2003. Cook County Administration Building
Chicago
Illinois
2003. Summary. References. Recommended Reading. Part 2. Egress System Fundamentals 3. Egress Strategies. Egress System Goals and Objectives. General Egress Strategies. Designing for Occupants with Disabilities. Prescribed Performance. Emerging Egress Strategies. Performance-Based Approaches. Selecting and Evaluating Options. Summary. References. Recommended Reading. 4. Prescriptive Egress Concepts. Fundamentals. Occupant Load. Exit Access. Exit Components. Exit Discharge. Assembly Occupancies. Summary. References. Recommended Reading. 5. Supporting Systems. Systems Approach. Accessibility. Security. Control of Combustibles. Structural Integrity. Fire Rating. Construction Type. Fire Resistance. Compartmentation. Floors. Walls. Doors. Detection Systems. Occupant Notification. Suppression Systems. Smoke Management Systems. Back-Up Power. Evacuation Using Elevators. Types of Elevators. References. Recommended Reading. Part 3. Human Behavior and Performance Concepts. 6. Human Behavior Considerations for Egress System Design. People-Building-Event Interaction. Occupant Characterization. Occupant Reaction and Response in Emergency Situations. Human Behavior and Crowds. Using Occupant Risk Factors to Aid Egress System Design. Summary. References. Recommended Reading. 7. Performance Egress Concepts. Performance Egress Overview. Tenability Criteria. Hazards. Safety Factors and Uncertainties. Evacuation Time Calculation Overview. Limitations with Engineering Calculations. Designing for Elevator Evacuation. References. Recommended Reading. Part 4. Evacuation Planning and Design 8. Evacuation Planning and Crowd Management. Evacuation Planning Overview. Evacuation Plan Development. Typical Challenges with Evacuation Plans. Roles and Responsibilities during Incidents. Evacuation Drilling and Training. Crowd Management Planning. Summary. References. Recommended Reading. 9. Design Solutions. Airport Terminals. Air Traffic Control Towers. Arenas
Stadia
and Sports Facilities. Convention and Exhibit Centers. Courthouses. Detention and Correctional Facilities. Day-Care
Adult-Care
and Assisted-Living Facilities. Hazardous Occupancies. Health-Care Facilities. Historic and Existing Buildings. Museums and Libraries. Performing Arts Centers. Rail Stations and Platforms. Rail and Road Tunnels. Retail Facilities. Tall Buildings. Summary. References. Recommended Reading. Appendix. About the Authors. Index.