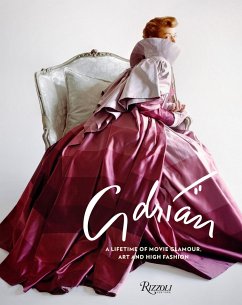 Andere Kunden interessierten sich
auch
für


This book is a bright and vivacious look at the fashion, art and homes of one of the most celebrated fashion designers of the twentieth century. Adrian (1903-1959) designed costumes for over 150 Hollywood productions, including fabulous gowns worn by such iconic actresses as Greta Garbo, Norma Shearer, Joan Crawford, Judy Garland, and Katharine Hepburn. He then went on to found one of the most popular and influential fashion labels of the mid-twentieth century, Adrian, Ltd. He had a passion for art and interior design, as seen in his impeccably decorated homes, which he shared with his wife, Hollywood movie star Janet Gaynor, and his personal paintings and sketches.

The man who created the famous ruby slippers worn in The Wizard of Oz was also the first American designer honored with a retrospective at the Smithsonian Institution, and his influence can still be felt on the runways in New York and Paris today. This is the first book on the famed Hollywood fashion and costume designer to be published with the cooperation of his family. With a foreword by the designer's son, Robin, as well as a treasure trove of never-before-seen images and anecdotes taken from Adrian's unpublished manuscript, this is the definitive book on the life of the legendary designer.
Produktdetails
Verlag: Rizzoli Us; Rizzoli
Seitenzahl: 352
Erscheinungstermin: 5. November 2019
Englisch
Abmessung: 312mm x 250mm x 38mm
Gewicht: 2518g
ISBN-13: 9780847860111
ISBN-10: 0847860116
Artikelnr.: 55736096
"With lush photographs and swoon-worthy designs, Adrian: A Lifetime of Movie Glamour, Art, and High Fashion by Leonard Stanley revisits the designer's work, giving his craft new life." -CR FASHION BOOK.COM
"The most extensive book to date on Adrian (who successfully transitioned from film to fashion by 1941, opening a Beverly Hills salon the following year), the tome pays tribute to his fantastical MGM handiwork and offers a complete assessment of the career enjoyed by "Hollywood's highest paid couturier," as he was known in his heyday. Adrian was a polymath. Featuring previously unseen images, including his lavish sketches and Surrealist-inspired paintings (culled from the collection of the author, historian Leonard Stanley), this extensive study also displays a trove of archival photography and magazine articles chronicling the striking décor he conjured for his homes in and around Los Angeles."
-HOLLYWOOD REPORTER
"Written by Leonard Stanley, a preeminent collector of costume design sketches, and Mark A. Vieira, with a foreword by Adrian's son, Robin Adrian, these pages celebrate the life and iconic work of the mononymous designer and costumer, who concepted ensembles for more than 150 productions during the Golden Age of Hollywood. Enjoy reviewing sketches and photographs of incredible gowns worn by Greta Garbo, Norma Shearer, Joan Crawford, Judy Garland, Katharine Hepburn and others." -C: CALIFORNIA STYLE MAGAZINE
"If looks could astound,
add in the magnificent photos of costumes and fashions that Adrian created. Most important is the unique first-hand perspective in Adrian's writing about his life and career. Adding to that is the authorization of his son Robin Adrian and the heartfelt admiration in the introduction and throughout the book by longtime devotee Leonard Stanley, a lifelong collector and fan of all things "Adrian." Cap it off with Mark A. Vieira's writing, and, well, "This book stepped out of a dream." All in all, it is beauty personified because of Adrian's remarkable talent as a fashion designer." -EDGE MEDIA NETWORK