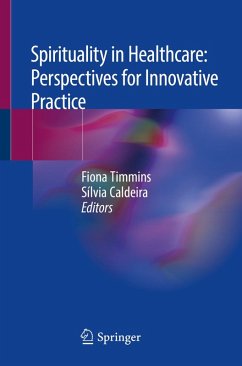 Andere Kunden interessierten sich
auch
für
The book highlights a range of examples and case studies facilitating the practical application of the recommendations discussed. In addition to presenting new psychological perspectives, various activities throughout will encourage readers to form their own opinion on the issues covered. The suggestions for further reading and useful websites will also help readers interested in exploring specific areas in more depth.
Combining contributions by authors from various disciplines, the book offers a valuable tool for qualified professional healthcare workers in practice, including nurses, social workers, doctors and chaplains. With its handy format, this practical pocket guide offers a faithful companion for practitioners.
---
Dieser Download kann aus rechtlichen Gründen nur mit Rechnungsadresse in A, B, BG, CY, CZ, D, DK, EW, E, FIN, F, GB, GR, HR, H, IRL, I, LT, L, LR, M, NL, PL, P, R, S, SLO, SK ausgeliefert werden.
Produktdetails
Verlag: Springer-Verlag GmbH
Erscheinungstermin: 17.05.2019
Englisch
ISBN-13: 9783030044206
Artikelnr.: 56814698
Part I
The role of spirituality in healthcare

1. What is Spirituality?
Elizabeth Weathers
PhD BSc PGCTLHE RGN, Postdoctoral Researcher, University College Galway, Galway, Ireland

2. The Psychology of Spirituality in Healthcare Practice Settings
Jan M.A. de Vries
PhD, MSc, BSc, Assistant Professor and Psychology Subject Leader, School of Nursing and Midwifery, Trinity College Dublin, Ireland

3. Spiritual Assessment in Healthcare
Wilf McSherry
PhD, RGN, FRCN, Professor in Dignity of Care for Older People, Faculty of Health Sciences Staffordshire University United Kingdom and part-time Professor Haraldsplass Deaconess University College, Bergen, Norway
4. Spirituality is a Public Health Issue
Richard Egan
BA (Hons) PhD DPH (Otago) MPhil (Massey) DipTchg (Wgtn), Senior Lecturer in Health Promotion, Dunedin School of Medicine, New Zealand

5. Spirituality and Health
Harold G. Koenig
RN, MHSc, MD, Professor of Psychiatry & Behavioral Sciences; Associate Professor of Medicine; Duke University Medical Center, Durham, NC, USA

6. Spirituality and Childbirth
Colm O'Boyle
PhD, MSc, RM, RGN, Associate Professor of Midwifery, Vivienne Brady PhD, MSc, RM, RGN, Associate Professor of Midwifery, Trinity College, Dublin, Ireland

Part II
Providers and applications

7. Providing Spiritual Care
René van Leeuwen
PhD, RN, Lecturer in Health Care and Spirituality, Reformed University for Applied Sciences, Grasdorpstraat, The Netherlands

8. The role of the nurse in providing spiritual care
Sílvia Caldeira
PhD MSc PGDip, Assistant Professor/Researcher Centre for Interdisciplinary Research in Health, Institute of Health Sciences, Catholic University of Portugal, Lisbon

9. The Role of the Healthcare Chaplain
Rev. Dr. Christopher Swift
PhD, Head of Chaplaincy at the Leeds Teaching Hospitals NHS Trust, UK

10. Case Studies supporting spiritual needs during challenging situations:
10.1. Maternal/Paternal suffering
Renee Dilworth
Healthcare Chaplain, Dublin, Ireland
10.2. Loss in Intellectual Disability
Joy Powell
Healthcare Chaplain, Dublin, Ireland

11. Teaching and Learning about Spirituality in Healthcare Practice Settings
Jacqueline Whelan
MSc, MA, BNS (Hons), RNT RCN RGN Academic Associate in Logotherapy, Assistant Professor, The School of Nursing and Midwifery, Trinity College, Dublin, Ireland

Part III
Cultural issues

12. Working with diversity
Barbara Pesut
Canada Research Chair, Associate Professor School of Nursing, University of British Columbia, Okanagan Campus, Canada

13. New Monasticism and ritual
Bernadette Flanagan
PhD MA HDE DipITEd BATh, Professor, Waterford Institute of Technology, Waterford, Ireland

14. Conclusion