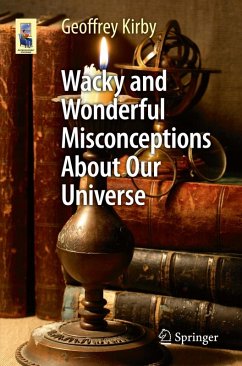 Produktdetails
Astronomers' Universe
Artikelnr. des Verlages: .978-3-319-73021-9, 978-3-319-73021-9
1st ed. 2018
Erscheinungstermin: 7. Juni 2018
Englisch
Abmessung: 236mm x 154mm x 15mm
Gewicht: 464g
ISBN-13: 9783319730219
ISBN-10: 3319730215
Artikelnr.: 50026233
Chapter 1: Introduction.- Chapter 2: The Sun and Its Solar System -- A Sexy Musical Pool Game? Chapter 3: Our Three Wacky Inner Planets -- Imaginary, Delusionary and Inhabited.- Chapter 4: Earth -- Flat, Hollow or Inside Out?.- Chapter 5: Our Moon - Inhabited, Small and Icy.- Chapter 6: Mars: Inhabited and a Threat?.- Chapter 7: Solar System Rubble: The Home of Princess Moon Owl?.- Chapter 8: The Outer Planets -- Forests of Hemp, Armadas of Seamen and the Holy Foreskin of Jesus.- Chapter 9: Wackiness Beyond the Solar System.- Chapter 10: Is It Wacky to Believe in Astrology and UFOs?.- Index.