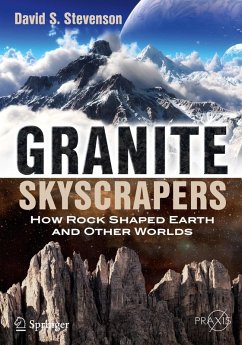 Produktdetails
Springer Praxis Books
Artikelnr. des Verlages: 978-3-319-91502-9
1st ed. 2018
Erscheinungstermin: August 2018
Englisch
Abmessung: 241mm x 167mm x 25mm
Gewicht: 720g
ISBN-13: 9783319915029
ISBN-10: 3319915029
Artikelnr.: 52357864
Preface.- Chapter 1 - Our Planet's Torrid Heart.- Chapter 2: The Formation of Granite.- Chapter 3: The Evolution of Modern Continents.- Chapter 4: Plate Tectonics, Planetary Magnetism and Life.- Chapter 5: Jotunheim: In The Realm of Giants.- Chapter 6: Mountains, Atmosphere and Long-Term Habitability.- Chapter 7: Our Island Earth: Granite Here, Granite Everywhere?.- Conclusions.- References.- Glossary.- Index.
"Stevenson's review of the expansion and destruction of major continental masses through time is impressive, as is his projection of potential future plate tectonic events and related igneous activity based on the work of many qualified research scientists. ... This outstanding book is recommended for a wide range of upper-level Earth science students and practicing professionals. Summing Up: Highly recommended. Advanced undergraduates through faculty and professionals." (M. E. McCallum, Choice, Vol. 56 (11), July, 2019)

"This book is great reading for anybody seeking a broad introduction to recent research on our planet's geological past and that of other bodies in the Solar System. ... The style of referencing is admirable: ... . This is essential when reporting interdisciplinary research to people unfamiliar with the field." (Simon Mitton, The Observatory, Vol. 139 (1270), June, 2019)