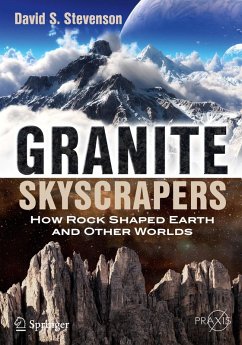 Andere Kunden interessierten sich
auch
für
This book serves as a wonderful primer for anybody interested in our planet's geological past and that of other planets in our Solar System and beyond. It illustrates not only how our planet's surface evolved, but also how granite played a pivotal role in the creation of complex, intelligent life on Earth. There has long been a missing element in popular astronomy, which Stevenson now aims to fill: how geological and biological evolution work in a complex partnership, and what our planet's own diversity can teach us about other rocky worlds.
---
Dieser Download kann aus rechtlichen Gründen nur mit Rechnungsadresse in A, B, BG, CY, CZ, D, DK, EW, E, FIN, F, GB, GR, HR, H, IRL, I, LT, L, LR, M, NL, PL, P, R, S, SLO, SK ausgeliefert werden.
Produktdetails
Verlag: Springer-Verlag GmbH
Erscheinungstermin: 31.08.2018
Englisch
ISBN-13: 9783319915036
Artikelnr.: 56812540
Preface.- Chapter 1 - Our Planet's Torrid Heart.- Chapter 2: The Formation of Granite.- Chapter 3: The Evolution of Modern Continents.- Chapter 4: Plate Tectonics, Planetary Magnetism and Life.- Chapter 5: Jotunheim: In The Realm of Giants.- Chapter 6: Mountains, Atmosphere and Long-Term Habitability.- Chapter 7: Our Island Earth: Granite Here, Granite Everywhere?.- Conclusions.- References.- Glossary.- Index.
"Stevenson's review of the expansion and destruction of major continental masses through time is impressive, as is his projection of potential future plate tectonic events and related igneous activity based on the work of many qualified research scientists. ... This outstanding book is recommended for a wide range of upper-level Earth science students and practicing professionals. Summing Up: Highly recommended. Advanced undergraduates through faculty and professionals." (M. E. McCallum, Choice, Vol. 56 (11), July, 2019)

"This book is great reading for anybody seeking a broad introduction to recent research on our planet's geological past and that of other bodies in the Solar System. ... The style of referencing is admirable: ... . This is essential when reporting interdisciplinary research to people unfamiliar with the field." (Simon Mitton, The Observatory, Vol. 139 (1270), June, 2019)