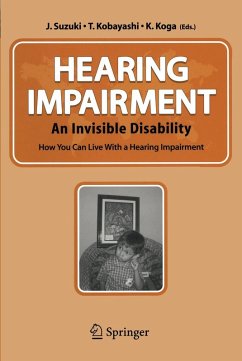 Andere Kunden interessierten sich
auch
für
Hearing Impairment - An Invisible Disability is the first work of its kind to comprehensively cover all aspects of hearing impairment. It covers the following categories through more than 100 contributions from all over the world to constitute an encyclopedia of hearing impairment:

- Hearing Basics: What does hearing impairment mean? Its causes and effects are explained through many real-world examples.

- Children: Childhood is a time when hearing impairment often begins, so proper treatment at an early stage can help alleviate difficulties and allow for as normal a life as possible. Many case studies from both the developed and developing parts of the world, including Indonesia and Latin America in the latter category, are provided to aid comprehension.

- Hearing Aids: Through newly emerging technology and with the help of electronics companies, new and affordable hearing aids are being developed and marketed. The authors take a closer look at this burgeoning field.

- Medical Aspects: Medical treatment of hearing impairment has recently shown remarkable change, manifested in improved techniques and applications all over the world. Although mainly of relevance to researchers and practicing physicians, the clear explanation of the medical and technical terminology is likely to be of interest to all concerned with the future of hearing impairment.

- Social and International Help: With a wealth of assistance from individuals, NGOs, and international organizations specifically tailored to help the hearing impaired, those in need of guidance can gain confidence from the knowledge that substantial support is available to help them pursue a full and varied life.


Produktdetails
Artikelnr. des Verlages: 11018278
2004
Seitenzahl: 608
Erscheinungstermin: 18. August 2004
Englisch
Abmessung: 235mm x 155mm x 32mm
Gewicht: 984g
ISBN-13: 9784431223269
ISBN-10: 4431223266
Artikelnr.: 13051247
I. Hearing Basics.- Hearing-Objective, Subjective and Personal.- The Hearing Mechanism: A Guide for Laymen.- Hearing Impaired: Invisible Disability.- Hearing and Balance-In General Term.- Hearing Impairment and Deafness.- Noise and Hearing Impairment.- Musicians and Hearing Impairment.- Hearing Impairments in the Society of Developing Country, Indonesian Case.- Hearing Health Infrastructure in Indonesia.- Hearing Impairment in Brazil.- Welfare of Those with Hearing Impairment.- Primary Necessity and Support for Hearing Impairment in China-Present Status on Medicine and Education.- Deafness in Bangladesh.- Hearing Impairment in Nepal.- Acceptance and Adaptation-a Personal Journey.- Noise Deafness in My Case.- Is It Possible to Cope Effectively with Hearing Loss in the Workplace?.- Voices Unheard: The Academic and Social Experiences of University Students who are Hard of Hearing.- II. Children.- Invisible Disability/ How Can You Survive with Hearing Impairment-The Infant and Child.- Newborn Hearing Screening-the Ultimate Early Detection Strategy for Hearing Loss.- Preventative Otology-Preventing Ear Disease and Hearing Loss in the Paediatric Population.- Early Intervention for Hard-to-Hear Children in Japan-the Center for Hearing Impaired Children, Past, Present and Future of Kanariya Gakuen.- Early Intervention Program of Hearing-Impaired Children in Japan.- Acquisition of Oral and Written Language by Children with Severely Impaired Hearing.- Coping with Hearing Impairment in Children: The Grieving Process after Diagnosis.- Current Issues on Language Education for Young Hearing-Impaired Children.- Deafness in Infants and Children-Early Detection, Auditory Training and Education.- An Introduction of a Comic on Hearing Impairment.- Hearing Impairment in School Children.- Educational Program for Parents of Deaf Children in Latin America.- The Special Class for the Children with Hearing Difficulty in Okayama Uchisange Primary School-Its history of establishment and process of development as the oldest Nanchyougakkyu in Japan.- It Grew up to 46-Years-Old!.- Congenital Hearing Loss in Virus Infection: Rubella and CMV Infection in Children.- III. Hearing Aids.- High-Quality, Low-Cost Hearing Aids.- Hearing International Project on High-Quality, Low-Cost Hearing Aids.- Present Status of Hearing Aids Marketed in Japan, from the Viewpoint of a Layman User.- The Book to Normal Hearing Person for Hardness-of-Hearing Person Support-Recognition Made the Mistake in Receiving a Hearing-Aid.- Outcome of Hearing Aid Technology.- Why the Hearing Impaired do not Use Hearing Instruments.- Development of High-Quality Inexpensive Hearing Aid and Popularization of Hearing Assistance System.- High Quality Low Cost Hearing Aid.- Commercially Available Low Cost Hearing Aids and these Limitations.- The BAHA-Direct Stimulation of the Temporal Bone.- Implantable Hearing Aids (the MEI) in Japan.- Experiences of Cochlear Implantation at the Seoul National University Hospital.- Can We Apply Ultrasound to Hearing Aids for the Profoundly Deaf?.- IV. Medical Aspects.- Vocabulary.- Eustachian Tube and Otitis Media.- Autoimmune Sensorineural Hearing Loss.- Delayed Endolymphatic Hydrops: Episodic Vertigo of Delayed Onset after Profound Inner Ear Hearing Loss.- Causes of Sensorineural Hearing Impairment-From Transmission Electron Microscopy.- Hearing Impairment of Former Leprosy Patients.- Multifold Burden in a Hearing Impaired Person.- Genes and Hearing: The Molecular Basis of Hearing and Deafness.- Chronic Ear Infection.- Curable Sensorineural Hearing Loss.- Prevention of Hearing Impairment and Deafness-Special Problems in Korea.- The Rhinological Diagnosis in the Management of Otitis Media.- Subjective Audiometry.- Is the Origin of So-Called "Jumbling of Object" Only by Bilateral Peripheral-Vestibular Lesions?.- Vertigo and Balance: Clinical Aspect.- Hearing Loss Associated with Vertigo.- World Health Organization to Address the Problems of Deafness and Hearin