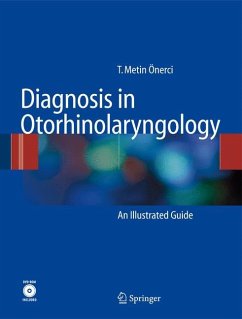 Andere Kunden interessierten sich
auch
für
---
In preparing the material for this book, I took the advice of my students who generously shared their views and opinions with me. I was told that it would be preferable to have images of the various diseases with legends describing the disease. Students would be able to learn and retain the inf- mation more successfully if the material was accompanied by pictures and schematic drawings. Recent advances in technology have made it possible to photograph regions that are difcult to view with the naked eye, such as the ear, nose, throat, nasopharynx, and larynx - all the areas of otorhinolaryngology. Such an illustrated text in this feld is important and necessary for teaching purposes. In this book I tried to compile images of the basic conditions that are commonly seen in general practice and to give the reader a visual survey with a brief description of the condition. I added tables and schematic drawings in order to provide practical information. It is not the purpose of this book to be a comprehensive textbook, since many textbooks are already available with more detailed information of the conditions illustrated here. This book is primarily intended for medical students, family and general practitioners, and ENT trainees. It may also serve as basic reading material for those in allied specialties. I hope my colleagues fnd this book useful and it contributes toward their teaching purposes.
Produktdetails
Verlag: Springer, Berlin
Artikelnr. des Verlages: 12237203
2010
Seitenzahl: 188
Erscheinungstermin: 28. Oktober 2009
Englisch
Abmessung: 287mm x 217mm x 20mm
Gewicht: 986g
ISBN-13: 9783642004988
ISBN-10: 3642004989
Artikelnr.: 26202674
Ear.- Ear Anatomy.- ENT Examination.- The Pinna.- External Ear Canal.- Otitis Media with Effusion.- Acute Otitis Media.- Chronic Otitis Media.- Facial Nerve Paralysis.- Complications of Otitis Media.- Hearing Loss.- Otalgia.- Temporal Bone Fractures.- Tinnitus.- Vertigo.- Nose.- The Common Cold and the Flu.- Rhinitis.- Allergic Rhinitis.- Nasal Vestibulitis and Nasal Furunculosis and Mucormycosis.- Sinusitis.- Complications of Sinusitis.- Nasal Polyposis.- Nasal Obstruction.- Septum.- Epistaxis.- Traumas.- Nasolacrimal obstructions.- Tumors.- Throat & Neck.- Acute Tonsillopharyngitis.- Adenoids.- Snoring.- Temporomandibular Joint.- Airway Obstructions.- Hoarseness.- Cysts.- Salivary Gland Tumors.- Oral Cavity.- Neck Masses.- Neck Malignancies.
From the reviews:

"This is a must have book for general practitioners, medical students and ENT trainees, both juniors and seniors alike. ... The legends at the bottom of every image are well written yet succinct, making it easy for the reader to grasp the information. ... this book succeeds in its aim of providing a picture atlas of the majority of ENT conditions. In my role as a clinician and an educator of medical students and ENT trainees, I would certainly use this book regularly." (Asad Qayyum, ENT & Audiology News, 2013)

"This is a collection of images pertinent to the diagnosis of otolaryngologic diseases. ... The audience includes medical students, family and general practitioners, and ENT trainees. ... This is one of the most comprehensive collections of photographs and illustrations for otolaryngologic diseases." (Alice Lin, Doody's Review Service, February, 2010)