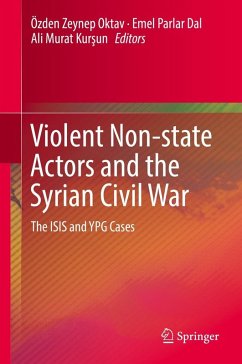 This book sheds new light on the security challenges for failed states posed by violent non-state armed actors (VNSAs). By focusing on the Syrian Civil War, it explores the characteristics, ideologies and strategies of the Islamic State (ISIS) and the People's Protection Units (YPG), as well as the regional and geopolitical impacts of these VNSAs. The contributors also cover topics such as the re-imagination of borders, the YPG's demands for national sovereignty, and the involvement of regional and global powers in the Syrian crisis. "This timely volume by regional scholars and experts examines various aspects of the emergence and expansion of violent non-state actors in the Syrian/Iraqi conflict. The wealth of detail and approaches enhance our understanding of the transformation and dynamics of contemporary conflicts within and beyond the region." Keith Krause, The Graduate Institute, Geneva "This book opens fascinating glimpses into contrasting forms of "state-like" governance established by non-state actors, ISIS and the Kurdish PYD. [...] It is an important source for students of the Syrian conflict, civil wars, failed states and hybrid governance."Raymond Hinnebusch, Director Centre for Syrian Studies, University of St. Andrews "This book is an excellent resource for those looking for an interdisciplinary account of VNSAs during the Syrian civil war. It makes a nice contribution to the study of violent non state actors and poses a set of new and pressing questions." Max Abrahms, Northeastern University.


---
Dieser Download kann aus rechtlichen Gründen nur mit Rechnungsadresse in A, B, BG, CY, CZ, D, DK, EW, E, FIN, F, GB, GR, HR, H, IRL, I, LT, L, LR, M, NL, PL, P, R, S, SLO, SK ausgeliefert werden.
Produktdetails
Verlag: Springer-Verlag GmbH
Erscheinungstermin: 29.11.2017
Englisch
ISBN-13: 9783319675282
Artikelnr.: 52937897
Chapter 1: Reframing and Reassessing the VNSAs in Syrian Conflict: An Introduction.- Part 1: Actorness.- Chapter 2: Contested Geographies: How ISIS and YPG Rule 'No-Go' Areas in Northern Syria.- Chapter 3: Making Sense of the Territorial Aspirations of ISIS: Autonomy, Representation, Influence.- Chapter 4: How to Profile PYD/YPG as an Actor in the Syrian Civil War: Policy Implications for the Region and Beyond.- Chapter 5: The Islamic State versus the Popular Protection Units: Reciprocal Mobilization of Violent Non-State Actors in the Syrian Civil War.- Part 2: Powerfulness.- Chapter 6: ISIS as an Actor Controlling Water Resources in Syria and Iraq.- Part 3: Effectiveness.- Chapter 7: 'Surrogate Warfare' in Syria and the Pitfalls of Diverging US Attitudes Towards ISIS and PYD.- Chapter 8: External Actors and VNSAs: An Analysis of the United States, Russia, ISIS and PYD/YPG.- Chapter 9: The EU's Stance Towards VNSAs in dealing with the Syrian Crisis and its Effects.- Chapter 10: Understanding Iran's Approach to Violent Non-State Actors: ISIS and YPG Cases.- Chapter 11: The Contagion of the Syrian Civil War into Turkey Under the Impact of ISIS and YPG Cases: Conditioning Factors and Diffusion Mechanisms.