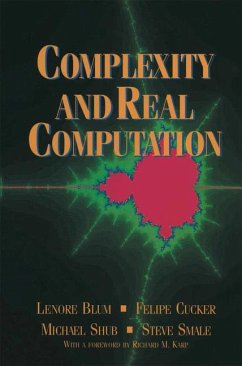 Andere Kunden interessierten sich
auch
für


- Is the Mandelbrot set decidable?

- For simple quadratic maps, is the Julia set a halting set?

- What is the real complexity of Newton's method?

- Is there an algorithm for deciding the knapsack problem in a ploynomial number of steps?

- Is the Hilbert Nullstellensatz intractable?

- Is the problem of locating a real zero of a degree four polynomial intractable?

- Is linear programming tractable over the reals?

The book is divided into three parts: The first part provides an extensive introduction and then proves the fundamental NP-completeness theorems of Cook-Karp and their extensions to more general number fields as the real and complex numbers. The later parts of the book develop a formal theory of computation which integrates major themes of the classical theory and which is more directly applicable to problems in mathematics, numerical analysis, and scientific computing.
Produktdetails
Verlag: Springer / Springer, Berlin
Artikelnr. des Verlages: 978-0-387-98281-6
1997
Seitenzahl: 472
Erscheinungstermin: 30. Oktober 1997
Englisch
Abmessung: 241mm x 160mm x 33mm
Gewicht: 913g
ISBN-13: 9780387982816
ISBN-10: 0387982817
Artikelnr.: 07277076
Introduction.- Definitions and First Properties of Computation.- Computation over a Ring.- Decision Problems and Comlexity over a Ring.- The Class NP and NP-complete Problems.- Integer machines.- Algebraic Settings for the Problem "P=NP?".- Newton's Method.- Fundamental Theorem of Algebra: Complexity Aspects.- B zout's Theorem.- Condition numbers and the loss of precision of linear equations.- The Condition Number for Non-Linear Problems.- The condition Number in P(H(d)).- Complexity and the Condition Number.- Linear Programming.- Deterministic lower bounds.- Probabilistic machines.- Parallel computations.- Some Separations of Complexity Classes.- Weak machines.- Additive machines.- Non uniform complexity classes.- Descriptive Complexity.- Bibliography.- Index.