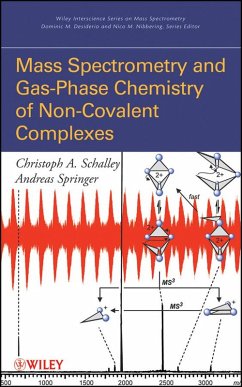 Andere Kunden interessierten sich
auch
für
Produktdetails
Wiley Mass Spectrometry
Verlag: John Wiley & Sons / WILEY
Seitenzahl: 592
Erscheinungstermin: September 2009
Englisch
Abmessung: 236mm x 157mm x 30mm
Gewicht: 898g
ISBN-13: 9780470131152
ISBN-10: 0470131152
Artikelnr.: 26607255
Preface. List of Tutorials. PART A: GENERAL ISSUES. 1. INTRODUCTION. 2. SUPRAMOLECULAR CHEMISTRY: SOME BACKGROUND. 2.1. The Nature of Non
Covalent Interactions. 2.2. Classical Building Blocks in Supramolecular Chemistry. 2.3. Key Areas and Key Concepts in Supramolecular Chemistry. 2.4. Biomolecules: Intra
and Intermolecular Non
Covalent Bonds. References. 3 MASS SPECTROMETRY FOR THE EXAMINATION OF NON
COVALENT COMPLEXES. 3.1. Common Mass Spectrometric Instrumentation for the Examination of Non
Covalent Bonds. 3.2. How Non
Covalent Bonds Change on the Transition from Solution to the Gas Phase. 3.3. Ion Energetics Issues. 3.4. Tandem
MS
Experiments. 3.5. Potential Sources of Error or Misinterpretation. References. PART B: ARTIFICIAL SUPRAMOLECULAR SYSTEMS. 4 FUNDAMENTAL STUDIES ON SMALLER NON
COVALENT COMPLEXES. 4.1. Ion Neutral Complexes. 4.2. High
Pressure Mass Spectrometry: Bridging the Gap Between Gas and Condensed Phase. References. 5 DETERMINATION OF THE "SECONDARY STRUCTURE" OF SUPRAMOLECULES BY MASS SPECTROMETRY. 5.1. Mechanically Interlocked Molecules and Their Precursors. 5.2. Guest Encapsulation. 5.3. Gas
Phase Conformations. 5.4. Zwitterions and Salt
Bridges. References. 6 CHIRAL RECOGNITION. 6.1. Tartrate Clusters. 6.2. Chiral Crown Ether
Ammonium Complexes: The Three
Point Model. 6.3. Cyclodextrin
Amino Acid Recognition. 6.4. Chiral Recognition in Amino Acid Clusters. 6.5. Homochiral Serine Octamers. 6.6. Resonant Two Photon Ionization Studies of Chiral Complexes: Spectroscopy of Diastereomeric Complexes in the Gas Phase. References. 7 MONITORING SOLUTION REACTIVITY OF NON
COVALENT COMPLEXES BY MASS SPECTROMETRY. 7.1. Mass Spectrometric Characterization of Metallo
Supramolecular Aggregates. 7.2. Simple Ligand Exchanges in Metallo
Supramolecular Squares. 7.3. Titration Experiments with Helicates. 7.4. Helicates Again: Mechanistic Insight into Ligand Exchange Reactions. 7.5. Titration Experiments with Self
Sorting Tetraurea
Calixarenes. 7.6. Self
Sorting Reactions of Pseudorotaxane Assemblies. 7.7. Shorter Time
Scales: A Mixed
Flow Technique Applied to Self
Assembly. References. 8. GAS
PHASE REACTIVITY OF SUPRAMOLECULES. 8.1. Molecular "Mouse Traps": Covalent Bond Formation Within Non
Covalent Complexes. 8.2. Fragmentation of Metallo
Supramolecular Helicates, Squares, and Cages. 8.3. Host
Guest Chemistry of Dendrimers in the Gas Phase. 8.4. H/D Exchange Reactions in Gaseous Non
Covalent Complexes. References. 9 DETERMINATION OF THERMOCHEMICAL DATA. 9.1. Crown Ether Binding Affinities in Solution. 9.2. Ranking of Anion
Cavitand Gas
Phase Binding Energies. 9.3. Crown Ether
Ammonium Ion Complexes in the Gas Phase. 9.4. Crown Ether
Alkali Metal Ion Complexes and the Best
Fit Model. References. PART C NON
COVALENT COMPLEXES OF BIOMOLECULES. 10 NON
COVALENT COMPLEXES WITH PETIDES AND PROTEINS. 10.1. Metal
Ion Binding to Peptides and Small Proteins. 10.2. Probing Three
Dimensional Protein Structure and Protein
Protein Interactions. 10.3. Interactions of Proteins with Small Molecules. 10.4. Sugar
Peptide and Sugar
Protein Complexes. 10.5. Interactions of Proteins with Oligonucleotides, DNA, and RNA. References. 11. NON
COVALENT COMPLEXES OF NUCLEOTIDES. 11.1. Metal
Ion Binding to DNA Bases and Oligonucleotides. 11.2. Are Watson
Crick Base Pairing and Double Helix Conserved in the Gas Phase? 11.3. G
Quartets. 11.4. The Folding of G
Rich Strands into Quadruplexes. 11.5. Minor Groove Binders and Intercalators: The Binding to Duplexes. 11.6. Non
Covalent Interactions With G
Quadruplexes. References. 12. CARBOHYDRATES. 12.1 Carbohydrates: Their Importance and Analysis. 12.2. Stereodifferentiation of Small Carbohydrates. 12.3. Structural Aspects of Oligosaccharides by MS and IMS. 12.4. Carbohydrate Association. 12.5. Summary and Outlook. References. 13. EPILOGUE. Index.