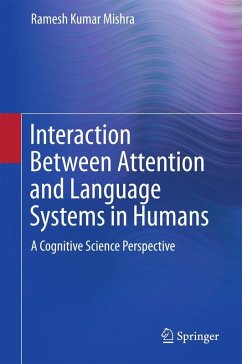 Andere Kunden interessierten sich
auch
für
This volume therefore looks at different language processing domains, such as speaking, listening, reading, as well as discourse and text processing, to evaluate the role attention plays in such performances; and also at how often linguistic inputs affect attentional processing. In this sense, it proposes that the attention--language interface is bidirectional. It also considers applied issues like language disorders, bilingualism and illiteracy, where the attention--language interface seems especially relevant as a theoretical apparatus for research investigations. Therefore, this volume brings closer theoretical explanations from the language sciences and cognitive sciences. It argues that language processing is multi-modal in its very essence and many conceptual structures in language evolve out of a complex interplay among participating cognitive systems such as attention and memory, supported by vision and audition.
---
Dieser Download kann aus rechtlichen Gründen nur mit Rechnungsadresse in A, B, BG, CY, CZ, D, DK, EW, E, FIN, F, GB, GR, HR, H, IRL, I, LT, L, LR, M, NL, PL, P, R, S, SLO, SK ausgeliefert werden.
Produktdetails
Verlag: Springer-Verlag GmbH
Erscheinungstermin: 09.10.2015
Englisch
ISBN-13: 9788132225928
Artikelnr.: 44039979
Chapter 1. Linking Language to Attention.- Chapter 2. The many Shades of Attention.- Chapter 3. Attention in Language: Historical Perspectives.- Chapter 4. Attention and the Processing of Sentences.- Chapter 5. Attention in Speech.- Chapter 6. Language, Attention and Individual Differences.- Chapter 7. Attention, Language, and Vision.- Chapter 8. Attention in Reading.- Chapter 9. Cultural and Sensorimotor Events during Language--Attention Interaction.- Chapter 10. Attention and Language: A linking Proposal.


"The relationship between attention and language has been the subject of extensive and continuing debate in cognitive science. Ramesh Mishra does the reader an impressive service weaving into accessible form the various findings and theories from this important area of cognitive science. And yet, beyond current findings and debate, the book also touches on the empirical and theoretical history of this domain, resulting in a very comprehensive treatment." ( Rick Dale, Associate Professor, University of California, Merced)
"Attention and language are isolable but also interacting cognitive systems. Each system is a complex of deeply interconnected components; consequently the nature of their interactions is an exciting and multifaceted domain for cognitive science thinking and research. In this exciting volume Ramesh Mishra thoroughly and intelligently explores this domain." (Raymond Klein, University Research Professor, Dalhousie University)