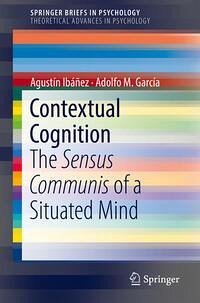 Andere Kunden interessierten sich
auch
für
Contextual Cognition will be of interest to students, teachers, and researchers from the fields of cognitive science, neurology, psychiatry, neuroscience, psychology, behavioral science, linguistics, and philosophy.
---
Dieser Download kann aus rechtlichen Gründen nur mit Rechnungsadresse in A, B, BG, CY, CZ, D, DK, EW, E, FIN, F, GB, GR, HR, H, IRL, I, LT, L, LR, M, NL, PL, P, R, S, SLO, SK ausgeliefert werden.
Produktdetails
Verlag: Springer-Verlag GmbH
Erscheinungstermin: 18.05.2018
Englisch
ISBN-13: 9783319772851
Artikelnr.: 52637597
Chapter 1. With Context in Mind, With Mind in Context.- Chapter 2. Context as a Determinant of Interpersonal Processes: The Social Context Network Model.- Chapter 3. Context as Inter-Domain Effects: The Hand-Action-Network Dynamic Language Embodiment Model.- Chapter 4. The Forest Behind (and Beyond) the Trees.- Commentary 1: Sensus Communis in Research and Application.- Commentary 2: Thoughts on the Contextual Cognition: Another Déjà vu.- Commentary 3: Quining Neuroscience and Psychology? Pseudoexplanations and Misunderstandings from Antiquantitative Theoretical Historicism.