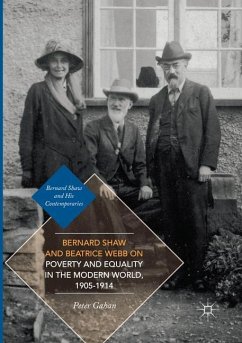 Andere Kunden interessierten sich
auch
für


The ten years following his great 1905 play on poverty Major Barbara present a puzzle to Shaw scholars, who have hitherto failed to appreciate both the centrality of the idea of equality in major plays like Getting Married, Misalliance , and Pygmalion , and to understand that his major political work, 1928's The Intelligent Woman's Guide to Socialism and Capitalism had its roots in this period before the Great War. As both the era's leading dramatist and leader of the Fabian Society, Shaw proposed his radical postulate of equal incomes as a solution to those twin scourges of a modern industrial society: poverty and inequality. Set against the backdrop of Beatrice Webb's famous Minority Report of the Royal Commission on the Poor Law 1905-1909 - a publication which led to grass-roots campaigns against destitution and eventually the Welfare State - this book considers how Shaw worked with Fabian colleagues, Sidney and Beatrice Webb, and H. G. Wells to explore through a series of major lectures, prefaces and plays, the social, economic, political, and even religious implications of human equality as the basis for modern democracy.


Produktdetails
Bernard Shaw and His Contemporaries
Artikelnr. des Verlages: 978-3-319-83944-8
Softcover reprint of the original 1st ed. 2017
Seitenzahl: 248
Erscheinungstermin: 12. Juni 2018
Englisch
Abmessung: 210mm x 148mm x 13mm
Gewicht: 329g
ISBN-13: 9783319839448
ISBN-10: 3319839446
Artikelnr.: 53576955
Chapter 1. 1884-1904, Introduction.- Chapter 2. 1905, Poverty, Salvation, and the Poor Law Commission.- Chapter 3. 1905-1909, Noises Off.- Chapter 4. 1909, The Minority Report.- Chapter 5. 1910, Campaign for the Prevention of Destitution.- Chapter 6. 1911, Travels.- Chapter 7. 1912, War on Poverty.- Chapter 8. 1913, The New Statesman and the Fabian Research Department.- Chapter 9. 1914, Redistribution and War.- Chapter 10.1915-1950, Epilogue.- Bibliography.
"THIS IS an important book-and a timely one. ... Peter Gahan's well-researched book focuses on Shaw's early years with the Fabians-the British socialist organization that laid the foundation for many progressive policies in the twentieth century." (Jean Reynolds, English Literature in Transition, Vol. 63 (2), 2020)

"An engrossing account of their synchronized quest for an equitable ordering of society. . . Gahan's cogent presentation unfolds chronologically, taking us through the decisive years 1905-1914. ... Bernard Shaw and Beatrice Webb on Poverty and Equality in the Modern World confirms what I believe many have already correctly determined for themselves. In Peter Gahan, Shaw has found an uncommonly skilled and exceptional exegete." (Howard Ira Einsohn, SHAW, The Journal of Bernard Shaw Studies, Vol. 37 (2), 2017)

"Beautifully written and carefully researched; and display a rare and welcome commitment to social progress. ... focus primarily on the non-fictional prose writings of Bernard Shaw, the articles, lengthy letters, public speeches and criticism that form a large and important part of his extraordinary textual production. ... Peter Gahan feels the plays of this period [Getting Married, Misalliance and Fanny's First Play] have been unjustly overlooked in Shaw criticism and and he makes a strong case for them." (Anthony Roche, Irish Studies Review, Vol. 25, 2017)