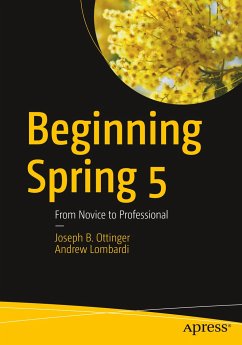 Andere Kunden interessierten sich
auch
für
Beginning Spring 5
discusses how you can build apps with the Spring mindset and what the benefits of that mindset are. Along the way you will learn many aspects of the Spring ecosystem with easy-to-understand applications designed to teach you not only the technology, but also the practices that benefit the most from Spring.
What You Will Learn
Discover the most common use cases encountered in the real world

Create reliable, tested, modular software, building skills that will translate well across all languages and environments.

Integrate and use data access and persistence frameworks such as Hibernate, JPA, and MongoDB

Program functional or reactive Java with the latest Spring 5 features including WebFlux

Who This Book Is For
Those who are new to Spring or for those who have experience with Spring but want to learn what's new in Spring 5. This book assumes you have some prior coding experience in Java at least.