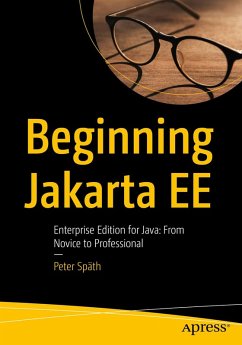 Andere Kunden interessierten sich
auch
für
Build Java-based enterprise applications using the open source Eclipse Jakarta EE platform. This feature-packed book teaches you enterprise Java development top to bottom. It covers Java web-tier development using servlets, JavaServer Faces (JSF), RESTful applications, and JSON. You'll also cover Java data-tier development using persistence and transaction handling, messaging services, remote procedure calls, concurrency, and security to round out a complete Java-based enterprise application.
Step by step and easy to follow, Beginning Jakarta EE includes many practical examples. Written by a Java expert and consultant, this book contains the best information possible on enterprise Java technologies. You'll see that Jakarta EE is the next evolution of Java EE 8 and how it is one of the leading Java platforms for enterprise application development.
What You Will Learn
Build enterprise Java applications using Jakarta EE
Set up your development environment
Create page-flow web applications with JSF
Write single-page web applications with REST and JSON
Persist data using JPA in Jakarta EE
Build enterprise Java modules using EJBs and CDI
Work with transaction engines using JTA
Secure, log, and monitor your Jakarta EE applications
Who This Book Is For
Beginning Java EE application developers with some experience of Java 8.
---
Dieser Download kann aus rechtlichen Gründen nur mit Rechnungsadresse in A, B, BG, CY, CZ, D, DK, EW, E, FIN, F, GR, HR, H, IRL, I, LT, L, LR, M, NL, PL, P, R, S, SLO, SK ausgeliefert werden.
Produktdetails
Verlag: Springer-Verlag GmbH
Seitenzahl: 444
Erscheinungstermin: 31. August 2019
Englisch
ISBN-13: 9781484250792
Artikelnr.: 57607743
Chapter 1: Java Development, Enterprise NeedsWe describe what Jakarta EE is needed for and how it relates to modern development paradigms Section: Standardized SpecificationsSection: Multitiered ApplicationsSection: Why Jakarta EESection: Jakarta EE Servers And LicensingSection: Excursion to Micro ServicesSection: Jakarta EE Applications And The Cloud
Chapter 2: Prerequisites: The Java 8 LanguageThe relation to the Java Standard Edition JSE gets explained Section: The Java Standard Edition JSE8Section: The Java 8 Language
Chapter 3: Getting a Jakarta EE Server to WorkWe introduce the Glassfish application Server and explain how to install and use it Section: Getting And Installing GlassfishSection: Glassfish Administration
Chapter 4: Setting up an IDEWe introduce Eclipse as an IDE for developing Jakarta EE applications Section: Installing Eclipse for Jakarta EE DevelopmentSection: Using EclipseSection: Your First Jakarta EE Application
Chapter 5: Building Page-Flow Web Applications With JSFWe introduce Java Server Faces for building web frontendsSection: Servlets And JSF PagesSection: Overview Over The JSF Page-FlowSection: Using XHTML PagesSection: JSF TagsSection: Accessing Objects From JSF PagesSection: Expression Language in JSF PagesSection: Localized ResourcesSection: Using Converters And Validators
Chapter 6: Building Single-Page Web Applications With REST And JSONWe introduce single page web applications and explain how to build them inside Jakarta EESection: A RESTful Server Inside Jakarta EESection: Single Page Web ApplicationsSection: Processing JSON Data
Chapter 7: Adding a Database With JPAWe introduce database access from Jakarta EE Section: Abstracting Away Database Access With JPASection: Setting up a SQL DatabaseSection: Accessing SQL Data Section: Using Non-SQL Databases
Chapter 8: Modularization with EJBsWe introduce enterprise Java Beans (EJBs)Section: Defining EJBsSection: Accessing EJBs
Chapter 9: Dealing With XML DataWe explain how to handle XML within Jakarta EESection: XML ProcessingSection: Web Services
Chapter 10: Messaging With JMSWe introduce asynchonous messaging via JMS in Jakarta EE Section: Getting Message Brokers to WorkSection: Writing And Reading Messages
Chapter 11: Maintaining State Consistency With JTA TransactionsWe describe transactions via JTA and explain how to handle them inside Jakarta EE Section: Modularization in Time: Transaction DemarcationSection: The ACID ParadigmSection: Distributed Transaction SystemsSection: Declaring Transaction Units
Chapter 12: Securing Jakarta EE ApplicationsThis chapter is for the description of security issues Section: Securing Administrative AccessSection: Securing Web Access
Chapter 13: Logging Jakarta EE ApplicationsWe talk about logging and what options we ave for logging inside Jakarta EE Section: Logging Over The Admin ConsoleSection: Overview Over Logging FrameworksSection: Using SLF4j And Log4j
Chapter 14: Monitoring Jakarta EE ApplicationsWe describe how we can monitor Jakarta EE servers and applications Section: Monitoring Over The Admin ConsoleSection: Enabling JMX Logging
Appendix: Solutions to ExercisesSolutions to the exercises presented in the chapters and sections.

Es gelten unsere Allgemeinen Geschäftsbedingungen: www.buecher.de/agb
Impressum
www.buecher.de ist ein Shop der
buecher.de GmbH & Co. KG
Bürgermeister-Wegele-Str. 12,
86167 Augsburg
Amtsgericht Augsburg HRA 13309
Persönlich haftender Gesellschafter: buecher.de Verwaltungs GmbH
Amtsgericht Augsburg HRB 16890

Vertretungsberechtigte:
Günter Hilger, Geschäftsführer
Clemens Todd, Geschäftsführer

Sitz der Gesellschaft:Augsburg
Ust-IdNr. DE 204210010
---
Bitte wählen Sie Ihr Anliegen aus.