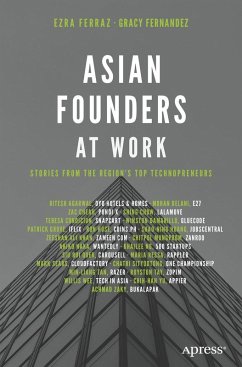 Andere Kunden interessierten sich
auch
für
Asian Founders at Work
is an essential compilation of in-depth, incisive interviews with over 20 top technopreneurs from the region. Authors Ezra Ferraz and Gracy Fernandez have gathered their exclusive conversations with business leaders: Min-Liang Tan (Razer), Maria Ressa (Rappler), Chatri Sityodtong (ONE Championship), Patrick Grove (iflix), and Khailee Ng (500 Startups) are just a few.
Questions about early difficulties, fundraising, business pivots, strategic partnerships, exits via acquisition or IPO, and more are answered in great detail to shine a light on the founders' unique experiences. Learn directly from game-changers in their own voice. By documenting these stories, the authors have created the largest and most comprehensive record of successes to date. Whether you are an aspiring entrepreneur yourself, a business student wanting to become well-versed in international practices, or an owner looking to expand to the area, this book provides a thorough guide to the startup culture in Asia from the most knowledgeable sources possible.
What You Will Learn
Gain business knowledge of practices that are localized to Asia
Become familiar with essential startup topics, including product development, user acquisition, recruiting, and fundraising
Study individual companies and founders, and an overview of startup culture
Who This Book Is For
Those in the tech ecosystem in East, Southeast, and South Asia, including aspiring founders or current founders who have started their entrepreneurial journey. This book is also for people outside of Asia who have an interest in the region. Entrepreneurs or businesspeople can refer to this book as they consider expansion into the area. Researchers and readers can pick up this book if they are curious about the business landscape of Asia and want to hear directly from game-changing founders.
Produktdetails
Verlag: Springer, Berlin
Artikelnr. des Verlages: 978-1-4842-5161-4
1st ed.
Seitenzahl: 288
Erscheinungstermin: 21. Dezember 2019
Englisch
Abmessung: 235mm x 155mm x 15mm
Gewicht: 441g
ISBN-13: 9781484251614
ISBN-10: 148425161X
Artikelnr.: 57812550
Chapter 1: Siu Rui Quek: CEO and Co-founder, Carousell

Chapter 2: Shing Chow: Founder and CEO, Lalamove

Chapter 3: Khailee Ng: Managing Partner, 500 Startups

Chapter 4: Royston Tay: Founder, Zopim

Chapter 5: Chatri Sityodtong: Founder, Chairman, and CEO, ONE Championship

Chapter 6: Willis Wee: Founder and CEO, Tech in Asia

Chapter 7: Ritesh Agarwal: Founder and CEO, OYO Hotels & Homes

Chapter 8: Shao-Ning Huang: Co-founder and Deputy CEO, JobsCentral

Chapter 9: Achmad Zaky: Founder and CEO, Bukalapak

Chapter 10: Patrick Grove: Founder, iflix

Chapter 11: Chitpol Mungprom: CEO and Founder, Zanroo

Chapter 12: Mohan Belani: Co-founder and CEO, e27

Chapter 13: John Orrock: Founder, CEO, and Principal Investor, Future Now Ventures

Chapter 14: Zeeshan Ali Khan: CEO and Co-founder, Zameen.com

Chapter 15: Akiko Naka: CEO and Founder, Wantedly

Chapter 16: Ron Hose: Co-founder and CEO, Coins.ph

Chapter 17: Zac Cheah: CEO and Co-founder, Pundi X

Chapter 18: Chih-Han Yu: CEO and Co-founder, Appier

Chapter 19: Winston Damarillo: CEO and Founder, GlueCode

Chapter 20: Min-Liang Tan: Co-founder and CEO, Razer

Chapter 21: Maria Ressa: Co-founder and CEO, Rappler

Chapter 22: Mark Sears: CEO and Founder, CloudFactory

Chapter 23: Teresa Condicion: Co-founder and CEO, Snapcart