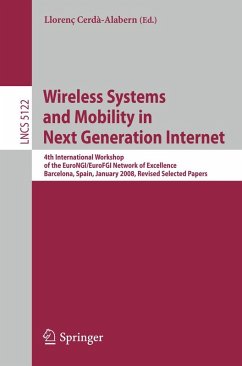 Andere Kunden interessierten sich
auch
für


The 16 revised full research papers presented were carefully selected from 39 submissions during two rounds of reviewing and improvement. The papers are organized in topical sections on sensor networks, mesh networks, mobile ad-hoc networks, and cellular networks.


Produktdetails
Lecture Notes in Computer Science 5122
Artikelnr. des Verlages: 12440313, 978-3-540-89182-6
2008
Seitenzahl: 232
Erscheinungstermin: 22. Oktober 2008
Englisch
Abmessung: 235mm x 155mm x 12mm
Gewicht: 358g
ISBN-13: 9783540891826
ISBN-10: 354089182X
Artikelnr.: 25634180
Sensor Networks.- Performance Evaluation of DTSN in Wireless Sensor Networks.- Diffusion Approximation Model for the Distribution of Packet Travel Time at Sensor Networks.- Minimizing Interference in TDMA MAC Protocols for WSN Operating in Shadow-Fading Channels.- Secure and Efficient Data Collection in Sensor Networks.- Image Recognition Traffic Patterns for Wireless Multimedia Sensor Networks.- Mesh Networks.- Notes on Implementing a IEEE 802.11s Mesh Point.- Interference-Aware Channel Assignment in Wireless Mesh Networks.- Performance Evaluation of a Dynamic Medium Access Control Scheme for Mobile Ad-Hoc Networks.- Teletraffic Performance Analysis of Multi-class OFDM-TDMA Systems with AMC.- Mobile Ad-Hoc Networks.- Reducing Problems in Providing Internet Connectivity for Mobile Ad Hoc Networks.- Connectivity Gateway Discovery in MANETs.- Efficiency of Search Methods in Dynamic Wireless Networks.- Evaluation of a Cooperative ARQ Protocol for Delay-Tolerant Vehicular Networks.- Cellular Networks.- A Seamless Vertical Handover Approach.- Location Management Based on the Mobility Patterns of Mobile Users.- Performance Evaluation of Overlay-Based Range Queries in Mobile Systems.