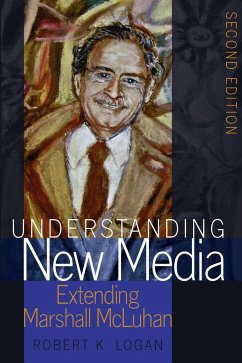 Marshall McLuhan made many predictions in his seminal 1964 publication, Understanding Media: Extensions of Man . Among them were his predictions that the Internet would become a "global village," making us more interconnected than television; the closing of the gap between consumers and producers; the elimination of space and time as barriers to communication; and the melting of national borders. He is also famously remembered for coining the expression "the medium is the message." These predictions form the genesis of this updated volume by Robert K. Logan, a friend and colleague who worked with McLuhan. In this second edition of Understanding New Media Logan expertly updates McLuhan's Understanding Media to analyze the "new media" McLuhan foreshadowed and yet was never able to analyze or experience. The book is designed to reach a new generation of readers as well as appealing to scholars and students who are familiar with Understanding Media.
Produktdetails
Understanding Media Ecology .2
Verlag: Peter Lang, Pieterlen
Artikelnr. des Verlages: 313147
2nd Edition
Erscheinungstermin: 27. April 2016
Englisch
Abmessung: 224mm x 151mm x 32mm
Gewicht: 700g
ISBN-13: 9781433131479
ISBN-10: 1433131471
Artikelnr.: 45012056
Contents: "New Media" and Marshall McLuhan: An Introduction - McLuhan's Methodology: Media as Extensions of Man and Mankind - Five Communication Ages: Adding the Mimetic and the Interactive Digital Ages - To What Extent Do the "New Media" Confirm or Contradict McLuhan's Predictions - The 15 Messages of "New Media": An Overview - The "Digital Economy": An Expansion of the Knowledge Economy - Scaffolding and Cascading Technologies and Media: Understanding New Media as the Extensions of Earlier Media or the Extensions of Extensions - The Spoken Word - The Written Word - Roads and Paper Routes - Number - Clothing - Housing - Money - Clocks - The Print - Comics - The Printed Word: Books and Libraries - Wheel, Bicycle, and Airplane - The Photograph - Press (or Newspapers) and the News - Motorcar - Ads - Games - Telegraph - The Typewriter - The Telephone - Impact of the New Media on the Telephone - The Phonograph and New Modes of Recorded Music - Movies and Digital Videos - Radio - Television - Weapons - Automation (Plus the Factory) - Hybrid or Convergent Technologies - The Multifunction Printer, Photocopier, Scanner, and Fax - Personal Computers - The Smartphone - Computer Software - Computing - E-Mail, Instant Messaging (IM), and Short Message Service (SMS) - Bulletin Boards, Usenets, Listservs, and Chat - The World Wide Web - Social Media Including Twitter, Instagram, and Snapchat - Blogs - Search Engines Plus Google and Libraries - Video Conferencing and Web-Based Collaboration Tools - Virtual Reality (VR) and Simulations - Robots, Bots, and Agents - Artificial Intelligence (AI) and Expert Systems - "Smart Tags" and Dataspace - Enabling Technologies Not Dealt With in Understanding Media.
"'Understanding New Media' is a necessary and up to date upgrade of Marshall McLuhan's theories in the context of a new digital media ecology. Bob Logan is one of the best interpreters of McLuhan's 360º vision of media, technology and culture, and he has enriched this wide- angle perspective by including categories from biology, complexity and evolution fields. In a historical moment characterized by a hyper- specialization of science - media studies are not the exception - this integrated approach is essential for understanding new media." (Carlos A. Scolari, Professor, Pompeu Fabra University, Barcelona)
"Marshall McLuhan's ideas on media have stood the test of time remarkably well. In many respects they are more relevant today than in the time of writing. Thus, an update of his classic work 'Understanding Media' from 1964 makes perfect sense. And I could think of no better candidate for the task than Robert Logan. His first-hand knowledge of McLuhan combined with his straightforward and lucid style of writing makes 'Understanding New Media' extremely useful as a guide to McLuhan's thoughts as well as our present world of 'New Media'." (Mogens Olesen, University of Copenhagen)