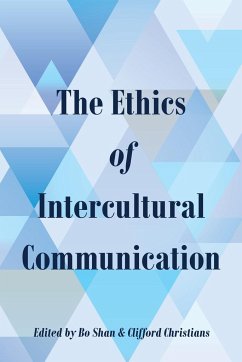 Andere Kunden interessierten sich
auch
für

Focusing on Oriental and Western cultures, the book's key case studies are China, North America, and Europe, where intercultural issues are relevant to an increasingly borderless world. Chapters focusing on a single nation or culture analyze findings from a cross-cultural perspective. Comparative studies appeal to transnational theories and norms.
Multi-ethnic voices in any community are increasingly understood as essential for a healthy society, and the media's ability to represent these voices well is an important arena for professional development and for enriching media codes of ethics. The news media are responsible for mapping the profound changes taking place and this book teaches us how.
Produktdetails
Intersections in Communications and Culture .32
Artikelnr. des Verlages: 312961
Neuausg.
Seitenzahl: 402
Erscheinungstermin: 30. September 2015
Englisch
Abmessung: 225mm x 150mm x 21mm
Gewicht: 600g
ISBN-13: 9781433129612
ISBN-10: 1433129612
Artikelnr.: 43956247
Contents: Clifford Christians/Bo Shan: Moral Reasoning in Intercultural Media - Comparative Research on Chinese and Western Communication Ethics - Bo Shan/Jincao Xiao: The Analects of Confucius and the Greek Classics: A Comparative Approach - Clifford Christians: The Problem of Communitas in Western Moral Philosophy - Hugues Hotier: The Islamic Veil in France: The Body That Communicates - Jiamei Tang/Bo Shan: Derailed News Frames and Dynamic Cultural Hegemony: A Textual Analysis of 9/11 10 th Anniversary Reports - Hemant Shah: Framing White Privilege: Eliminating Ethnic Studies from Arizona Schools - Xinya Liu: Moral Indifference or Unwillingness in Public Affairs? Comparing Chinese and Western News Discourse in Reporting Moral Issues - Jing Xin/Donald Matheson: Strange and Familiar: The Othering of Chinese Writer Mo Yan in U.S. News - Bo Shan/Xue Liu: Discourse Bias and Face-to-Face Negotiation: Intercultural Analysis of Coverage of the Wenchuan Earthquake - Romayne Smith Fullerton/Margaret Jones Patterson: Crime News: Defining the Boundaries - Xuewei Liu: Cultural Sojourners: A Study of Western Sub-cultural Musicians in China - Bo Shan: The Self-Salvation Path of Communication - Dan Yang: Intercultural News Reports and Intercultural Competence of Western Journalists in China - Valerie Alia: Original Voices and New Paradigms: Indigenous Media and Social Transformation in Canada - Patrick Lee Plaisance: Moral Motivation Within Media Cultures - Sandra L. Borden/David E. Boeyink: Casuistry's Strengths for Intercultural Journalism Ethics: A Case in Point - Chris Roberts: A Media Ethics Code for all Time Zones? The Global Use and Implications of the Society of Professional Journalists' Code - Constructing an Intercultural Public Sphere - Jack Lule: The Global Imaginary in Mumford and McLuhan - Clifford Christians: The Ethics of Human Dignity in a Multicultural World - Bo Shan: How Is Intercultural Communication Possible?