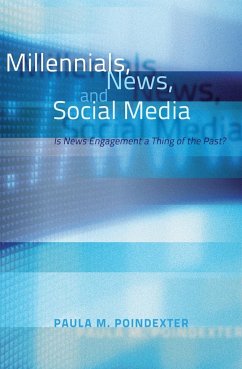 Produktdetails
Artikelnr. des Verlages: .311498, 311498
Neuausg.
Erscheinungstermin: 14. August 2012
Englisch
Abmessung: 231mm x 156mm x 20mm
Gewicht: 430g
ISBN-13: 9781433114984
ISBN-10: 1433114984
Artikelnr.: 36201781
List of Figures - List of Tables - Preface to the Second Edition - Preface to the First Edition - Acknowledgments - Society Without News Consumers? - Why Millennials Aren't Into News - How Millennials Really Feel About News and Coverage of Their Generation - Too Busy for News; Unlimited Time for Social Media on Smartphones - Race and Ethnicity, Gender, and Political Identity in Millennial News and Social Media Engagement - Generation Z, the First Post-Millennial Generation, and the Future of News Engagement - Engaging Millennials with News in a Mobile-First, Social Media World-It's Not Too Late, Yet - Appendix - Index.