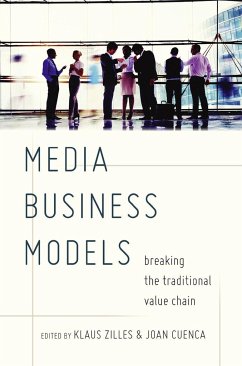 Andere Kunden interessierten sich
auch
für

These formerly stable models of the media value chain are now in perpetual flux, requiring adaptation to the rapid changes in technology and the volatility of user preferences.
Can media companies cope with these new circumstances and at the same time fulfill their traditional roles?
This volume addresses this question, and others, to explore scenarios, phenomena, and developments which point to new configurations arising from new media business models, innovative ways in which media practitioners engage their audiences, intercontinental media phenomena, user-generated content, and the general disconnect between print and online media paradigms.
Contributors point to a way out of the general bewilderment, providing answers to frequently asked questions, and ideas for new guidelines and solutions.
Produktdetails
Verlag: Peter Lang, Pieterlen
Artikelnr. des Verlages: 313178
Neuausg.
Seitenzahl: 276
Erscheinungstermin: 5. Juni 2016
Englisch
Abmessung: 225mm x 150mm x 14mm
Gewicht: 390g
ISBN-13: 9781433131783
ISBN-10: 1433131781
Artikelnr.: 45090438
Contents: Josep María Carbonell/Klaus Zilles/Joan Cuenca: Media Business Models: Breaking the Traditional Value Chain - U.S.and European Perspectives of the Changing Media Value Chain Paradigm in Social Networks and Blogs - Nika Bogdanowska/Ewa Bogdanowska-Jakubowska: Face and the Ethics of Social Networks - Jennifer M.Raymond/Jodi H.Cohen: Mom 2.0: Mothering in the Blogosphere - Ilona Biernacka-Ligieza: Virtual Local Public Sphere: The Role of New Media in Creating a Contemporary Local Democracy - Momentous Challenges in Uncharted Territory: Advertising and Public Relations - Guillem Marca/Kathy Matilla/Andréa Oliveira: Effects of Communication in Public and Media Rationale: Result Measures of Public Relations - Patrícia Dias: Hot Brands Are Cool: The Temperature Scale as a Tool for Branding in a Digital Society - Araceli Castelló-Martínez/Juan Monserrat-Gauchi: The Advertising Offer in the New Media Landscape - Felip Vidal: Media and the Creation of Brand Value in "Signification Advertising": Defining a Model and Case Studies: Muji, Moleskine, Bench - Elisenda Estanyol/Mireia Montaña/Ferran Lalueza: Engagement Is the Name of the Game: Gamification as a Communication Strategy in Advertising and Public Relations - Traditional Television Teams Up With the Social Networks - Ana González-Neira/Natalia Quintas-Froufe: Value Changes in Television Audiences: From the Traditional Audience to the Social Audience - Boris Ruzic: Towards a History of Media Conjuncture: The Daily Show, Audience and the "Revolution" - InterContinental Corollaries of Breaking the Media Value Chain in Journalism - Rita Figueiras/Nelson Costa Ribeiro: The Disruption of the Portuguese Media Democracy? Economic Crisis and Media Ownership - Luis Concepción Sepúlveda/Alfons Medina: Africa in Spanish Newspapers: From Indifference to Irrelevance.