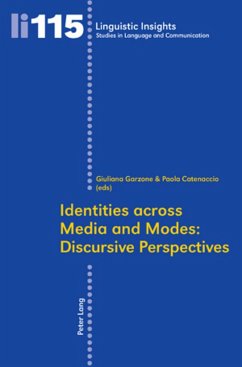 Andere Kunden interessierten sich
auch
für

In their variety of topics and approaches, the studies collected in this volume testify to the criticality of representing personal, professional and organizational identities through the new media, as their ability to reach a virtually unlimited audience amplifies the potential political, cultural and economic impact of discursive identity constructions. They also confirm that new highly sophisticated media can forge identities well beyond the simply iconic or textual representation, generating deeply interconnected webs of meaning capable of occupying an expanding - and adaptable - discursive space.
Produktdetails
Linguistic Insights 115
Artikelnr. des Verlages: 430386
Neuausg.
Seitenzahl: 388
Erscheinungstermin: 17. März 2010
Englisch
Abmessung: 225mm x 150mm x 20mm
Gewicht: 540g
ISBN-13: 9783034303866
ISBN-10: 3034303866
Artikelnr.: 28233009
Contents: Giuliana Garzone/Paola Catenaccio: Discursive Perspectives on Identities across Media and Modes: An Introduction - Giuliana Garzone: Identity in Tourist Communication on the Internet: Italy's and Spain's Web Sites Contrasted - Paola Catenaccio: Promoting Medical Tourism in India: Building Identity and Reputation in Health Tourism Websites - Francesca Santulli: Trademarks in Tourist Communication: Semiotic Structure and Cultural Implications - Lidia De Michelis: National Identity on the Web: The Discursive Politics of Icons. A Portrait of England - Kim Grego/Alessandra Vicentini: Building South African Web Identity: Health Care Information for Citizens vs. Foreigners - Giuditta Caliendo: The Role of the New Media in the Promotion of Identity Frameworks - Chiara Degano: Marketing Identities on Nestlé's Websites - Clara Bulfoni: Lexical Borrowing from English in the Internet Era: How to Preserve Chinese Identity? - Maria Cristina Paganoni: 'The Opinion and the Counter Opinion': News Framing and Double Voicing on Al Jazeera English - Anna Marchi/Charlotte Taylor: Who Was Fighting and Who/What Was Being Fought? The Construction of Participants' Identities in UK and US Reporting of the Iraq War - Miriam Bait: Discursive Representations of Old Age in Geriatric Medical Editorials - Cynthia Jane Kellett Bidoli: Transfer of Institutional and Political Identity through TV News Reporting for the Italian Deaf - Valentina De Cicco: The Media Process of Popularising Professional Identities. A Case Study: E.R . - Sara Villa: 'Doctor Alton, What Is a Transvestite?' The Discourses of Transvestism and Identity in Glen or Glenda by Ed Wood.