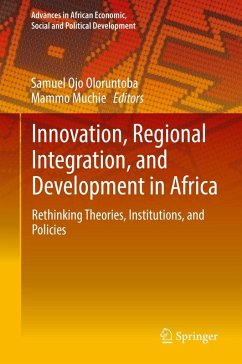 Andere Kunden interessierten sich
auch
für
The book is divided into four parts. Part I addresses the theoretical and conceptual underpinnings of innovation and regional integration in Africa. Part II presents case studies which examine how regional economic institutions are fostering innovation in Africa. Part III of the book deals with sectoral issues on innovation and integrated development in Africa. Part IV sets the future research on innovation, regional integration, and development in Africa. Combining theoretical analysis and a comparative, interdisciplinary approach, this volume is appropriate for researchers and students interested in economic development, political economy, African studies, international relations, agricultural science, and geography, as well as policymakers in regional economic communities and the African Union.
---
Dieser Download kann aus rechtlichen Gründen nur mit Rechnungsadresse in A, B, BG, CY, CZ, D, DK, EW, E, FIN, F, GB, GR, HR, H, IRL, I, LT, L, LR, M, NL, PL, P, R, S, SLO, SK ausgeliefert werden.
Produktdetails
Verlag: Springer-Verlag GmbH
Erscheinungstermin: 26.07.2018
Englisch
ISBN-13: 9783319921808
Artikelnr.: 53413326
Chapter 1:Innovation and Regional Integration: Reframing the Debates on Innovation and Integrated African Development.- Chapter 2: Towards a Unified Theory of Pan-African Innovation Systems and Integrated Development.- Chapter 3: Exploring Theory and Praxis for Socioeconomic Development.- Chapter 4: Innovating the Political Economy of Pan Africanism: Imagination and Renaissance.- Chapter 5: Innovating Policy Systems of Innovation for Regional Integration.- Chapter 6: Transnational Simultaneity: an Emergent African Perspective of Regional Integration.- Chapter 7: Knowledge Valorisation for Inclusive Innovation and Integrated African Development.- Chapter 8: Regional Integration Prospects, Challenges and Opportunities in Africa: A Case of Tripartite Free Trade Area.- Chapter 9: The Regionalism-Innovation Nexus: The ECOWAS Experience.- Chapter 10: Institutional Capacity and Regional Integration: Reflections on the Composition and Powers of the ECOWAS Parliament.- Chapter 11: Innovation and Development in West Africa.- Chapter 12: The Role of Cloud-Based Surveillance Systems in Regional Integration in ECOWAS.- Chapter 13: Higher Education, R&D, and Challenges in National Innovation System Building of Angola.- Chapter 14: Regional Integration and Knowledge Flows: Effects on Manufacturing Productivity in southern Africa.- Chapter 15: Regionalism and Failure of the African Manufacturing Sector: Technology Transfer Policies as a Missing Link.- Chapter 16: Intra-African Trade and Innovation in the Agricultural Sector.- Chapter 17: Unemployment and Informal Entrepreneurship in Zimbabwe.- Chapter 18: Analysis of Agricultural Innovation and Decision Making among Maize Farming Household in Nigeria: A Gender Approach.- Chapter 19: Social Innovations as a Response to Municipal Failures in Africa.- Chapter 20: Science and Technological Capability Building in Global South: Comparative Study of India and South Africa.- Chapter 21: Conclusion: Setting Research Agenda for Innovation and Integrated African Development.