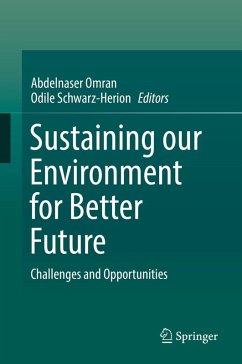 Andere Kunden interessierten sich
auch
für


This includes analyses of recent, sometimes fatal mining disasters in South and North America, challenges and opportunities for rural development in Africa and Australia, an exploration of the role of women for sustainable development in Palestine, water safety and water security issues in Asia and Australia, the environmental exploitation of popular tourism destinations like Acapulco, and deforestation in Malaysia, suggesting innovative approaches to turn challenges into opportunities to effectively tackle these problems. Other topics addressed involve sustainable energy creation for future generations, a research survey among Romanian students on sustainable consumption behavior, validity testing for a heat transfer model in a greenhouse, and a case study on sustainability risk management practices at Malaysia's environmentally sensitive companies. The book closes with an examination of highly digitalized Smart Cities as a potentially valuable complement to conventional urban and rural lifestyles in connection with achieving the UN Sustainable Development Goals (SDGs).


Produktdetails
Verlag: Springer / Springer, Berlin
Artikelnr. des Verlages: 978-981-13-7157-8
1st ed. 2020
Erscheinungstermin: 20. August 2019
Englisch
Abmessung: 241mm x 160mm x 21mm
Gewicht: 553g
ISBN-13: 9789811371578
ISBN-10: 9811371571
Artikelnr.: 55149829
Chapter 1. Thoughts On Economic Progress: The Controversy Between Neoclassical Economics And Sustainable Economies.- Chapter 2. Mining Environmental Disasters in North and South America.- Chapter 3. Rural Development In Africa: Challenges and Opportunities.- Chapter 4. Regenerating the Pearl of the Pacific: A Destination Capitals Approach to Acapulco's Tourism Development.- Chapter 5. Relationship Between Women, Environment Towards Sustainable Development: A Case Study From Palestine.- Chapter 6. Water contamination and health hazards in pakistan: an overview of the current scenario and contemporary challenges.- Chapter 7. water security: challenges to the irrigation water-energy nexus in Australia.- Chapter 8. Sustaining Queensland's Agricultural Sector: Challenges and Opportunities from the Bioeconomy and the Circular Economy.- Chapter 9. Creating Sustainable Energy For Future Generations.- Chapter 10. Sustainable Consumption Behavior Among Romanian Students.- Chapter 11. Validity Testing Of A Heat Transfer Model In A Greenhouse.- Chapter 12. Deforestation in Malaysia: The Current Practice and the Way Forward.- Chapter 13. Meeting The Stakeholder Needs And Sustaining Business Through Sustainability Risk Management Practices: A Case Study Of Malaysian Environmentally Sensitive Companies.- Chapter 14. Smart Cities and their Role in the Framework of the Sustainable Development Goals.