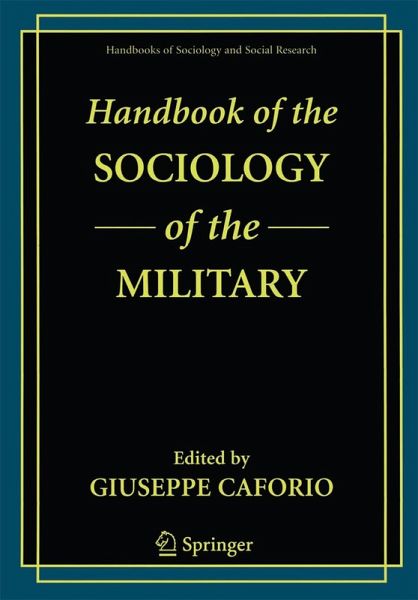 Produktdetails
Verlag: Springer US
Erscheinungstermin: 23.07.2007
Englisch
ISBN-13: 9780387345765
Artikelnr.: 37287983
Section I: General Introduction. 1. Introduction; G. Caforio. 2. Some historical notes; G. Caforio. 3. Social research and the military; G. Caforio, M. Nuciari. Section II: Theoretical and Methodological Orientations. 4. Models and explanations for the military organisation. An updated reconsideration; M. Nuciari. 5. The order of violence; V. von Bredow. 6. The military and war; T. Lindemann, M.L. Martin. 7. Military mobilization in modern western societies; J. Burk. Section III: Armed Forces and Society. 8. Civil military relations; V. Rukavishnikov, M. Pugh. 9. Democratic control of Armed Forces: issues, problems and agenda; H. Born. 10. A tribe among tribes: Postmodern militaries and civil-military relations? B. Boene. 11. Civil-military relations in post-pretorian Africa; M.L. Martin. 12. Military families and the armed forces, a two sided affair? R. Moelker, I. Van der Kloet. 13. Implications for military families of changes in the armed forces of the United States; M. Wechsler Segal, D. R. Segal. Section IV: Inside the Military. 14. Military Culture; J.L. Soeters, et al. 15. Military Officers Education; G. Caforio. 16. Women in the Military, sociological arguments for integration; M. Nuciari. 17. Diversity in armed forces; D.J. Winslow, et al. 18. Unionization of the Military; G. Caforio. Section V: Trends in the Military: Conversion and Restructuring. 19. Armed Forces Restructuring; P. Manigart. 20. Conversion of the military - resource - reuse perspective after the end of the Cold War; L. Jelusic. 21. Decline of the Mass Armies; K. Haltiner. 22. Technology, organization and power; R. Moelker. Section VI: New Missions. 23. Flexible Armed Forces; C. Dandeker. 24. A Soldier is a Soldier! The military and its soldiers in an era of globalisation; G. Kuemmel. Conclusions; G. Caforio. Bibliography; G. Caforio, et al. Notes on authors. Index.
"This collection from 24 scholars from 13 different countries provides an informative interdisciplinary overview of the most significant trends and developments in military sociology. Both newcomers and experts will find this handbook useful, particularly its comprehensive reference section. Highly recommended. Most reference collections; upper-division undergraduates and above." Choice, 41:1 (2003)
"If any proof were needed that military sociology is a vital and intellectually vibrant subfield of sociology, the evidence is in this excellent international and interdisciplinary book. They have produced a book that succeeds on multiple levels: as an important reference work, as a report of cutting-edge research, as contribution to theory and as a book that scholars and an informed lay audience will find fascinating reading." (International Sociology, 19:2)
"They have produced a book that succeeds on multiple levels: as an important reference work, as a report of cutting-edge research, as a contribution to theory and as a book that scholars and an informed lay audience will find fascinating reading. This volume is an important contribution to the study of the military and its relation to society, and deserves a place in the personal and professional libraries of scholars and institutions who understand the importance of the questions addressed. It would also serve as an excellent textbook for graduate or advanced undergraduate courses in civil-military
relations." (John Allen Williams; International Sociology, 19:2)