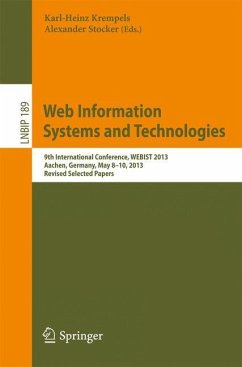 Produktdetails
Lecture Notes in Business Information Processing .189
Verlag: Springer, Berlin; Springer
Artikelnr. des Verlages: 86376507
2014
Erscheinungstermin: 14. September 2014
Englisch
Abmessung: 234mm x 159mm x 18mm
Gewicht: 416g
ISBN-13: 9783662442999
ISBN-10: 366244299X
Artikelnr.: 41101230
Part: Internet Technology.- Networked XML Compression by Encoding Pre-order Traversals.- Generating XACML Enforcement Policies for Role-Based Access Control of XML Documents.- Engineering Flexible Service-Oriented Transactions.- HTML5 Agents: Mobile Agents for the Web.- Watermarking Digital Images in the Frequency Domain: Performance and Attack Issues.- Part: Web Interfaces and Applications.- Towards a Web of Semantic Tags.- Web Service Discovery and Execution Using a Dialog-Based Approach.- Comparison of Mobile Web Frameworks.- Improving Search Engines' Document Ranking Employing Semantics and an Inference Network.- Category-Based YouTube Request Pattern Characterization.- Society, e-Business and e-Government.- Enhancing the Modularity and Applicability of Web-Based Signature-Verification Tools.- Status Quo and Best Practices of App Development in Regional Companies.- Web Intelligence.- Vector Space Models for the Classification of Short Messages on Social Network Services.- FactRunner: A New System for NLP-Based Information Extraction from Wikipedia.- Mobile Information Systems.- Context and Activity Recognition for Personalized Mobile Recommendations.