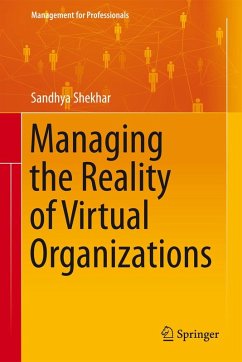 Produktdetails
Management for Professionals
Artikelnr. des Verlages: .978-81-322-2735-9
1st ed. 2016
Erscheinungstermin: 2. März 2016
Englisch
Abmessung: 241mm x 161mm x 22mm
Gewicht: 598g
ISBN-13: 9788132227359
ISBN-10: 8132227352
Artikelnr.: 44072601
Chapter 1. Introduction (Industry backdrop; Motivation for the book; Issues that the book seeks to address and how; organization of the book).- Chapter 2.Understanding the virtuality of virtual organizations.- Chapter 3. A view from the top.- Chapter 4. The strategic importance of knowledge transfer in VOs.-Chapter 5. In search of determinants of successful knowledge transfers.- Chapter 6. The research canvas.- Chapter 7. Organizations speak through their data.-Chapter 8. Unraveling the critical connection between knowledge and innovation.-Chapter 9. Putting the pieces together.- Chapter 10. Epilogue.


"Sandhya Shekhar's wide ranging analysis moves beyond just the technology enabling today's virtualized organizations to a long overdue analysis of the opportunities and challenges facing organizations looking to benefit from this historic levelling of the competitive playing field. Highly recommend to all executives responsible for leading into this brave new virtualized world."
- Peter Bars
Senior Partner Client Services Consulting, Deloitte Touche Tohmatsu, Melbourne, Australia
"This is a fascinating aspect of organisations which is now ubiquitous. The complexity has only increased over time. Given the need for a strong oraganistional framework to support a `virtual' organistion, there has been limited focus on this area and I am thus delighted that this book delves into this topic which should assist both the observer and the practitioner."
- Sandeep Uppal
Managing Director & Head Commercial Banking/ India, Hongkong and Shanghai Banking Corporation, Mumbai, India
"Virtual Organizations are becoming the new norm. The author has married her vast industry experience, in-depth analysis of several VOs, with strong academic orientation to present new concepts. Organizations will benefit tremendously by diving into the book to unearth the gems that will improve their organizational effectiveness."
- Dr. Ambi Parameswaran
Advisor (and former
CEO and Executive Director) FCB Ulka Advertising, Mumbai, India