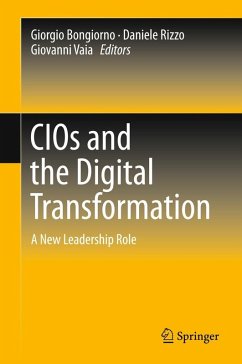 Andere Kunden interessierten sich
auch
für
This book describes how chief information officers (CIOs) can embrace and drive the digital transformation by providing innovative leadership that uses old skills in a novel way. The book explores ways in which new actors and factors will play a key role in this process and how new relations can be created among things, data, and people. In addition, the design of digital organizations and the implementation of digital technologies are carefully examined and it is explained how digital workspaces can be designed, organized, and used. A set of methods is provided for linking new digital tools in order to meet the goals and challenges of building a digital enterprise.
The digital economy is disrupting the way of interaction within value chains, creating fresh spaces for competition and novel ecosystems. With the advent of social media networking, mobility, big data and cloud computing, 4.0 manufacturing, etc., we are witnessing the birth of new digital organizations. However, sharing of leadership of this change among different actors can create disorder and inefficiency. Against this background, the future role of the CIO will be crucial.
---
Dieser Download kann aus rechtlichen Gründen nur mit Rechnungsadresse in A, B, BG, CY, CZ, D, DK, EW, E, FIN, F, GB, GR, HR, H, IRL, I, LT, L, LR, M, NL, PL, P, R, S, SLO, SK ausgeliefert werden.
Produktdetails
Verlag: Springer-Verlag GmbH
Erscheinungstermin: 31.07.2017
Englisch
ISBN-13: 9783319310268
Artikelnr.: 51892903
Introduction.- Driving the digital transformation: Actors and factors.- The CIO-centric transformation.- The new relations among things, data, and people.- The digital capabilities.- CIOs at the center of a new humanism.- Designing the digital technical environment.- Designing the digital organization.- Designing the digital human environment.- Digital governance.