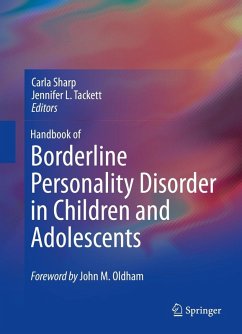 Geräte: PC

ohne Kopierschutz

Größe: 6.62MB
Andere Kunden interessierten sich
auch
für
The Handbook of Borderline Personality Disorder in Children and Adolescents reflects the broad scope and empirical strengths of current research as well as promising advances in treatment. This comprehensive resource is authored by veteran and emerging names across disciplines, including developmental psychopathology, clinical psychology, child psychiatry, genetics and neuroscience in order to organize the field for an integrative future. Leading-edge topics range from the role of parenting in the development of BPD to trait-based versus symptom-based assessment approaches, from the life-course trajectory of BPD to the impact of the DSM-5 on diagnosis. And of particular interest are the data on youth modifications of widely used adult interventions, with session excerpts.
Key areas featured in the Handbook:
The history of research on BPD in childhood and adolescence.
Conceptualization and assessment issues.
Etiology and core components of BPD.
Developmental course and psychosocial correlates.
Empirically supported treatment methods.
Implications for future research, assessment and intervention.
The Handbook of Borderline Personality Disorder in Children and Adolescents is a breakthrough reference for researchers and clinicians in a wide range of disciplines, including child and school psychology and psychiatry, social work, psychotherapy and counseling, nursing management and research and personality and social psychology.
---
Dieser Download kann aus rechtlichen Gründen nur mit Rechnungsadresse in A, B, BG, CY, CZ, D, DK, EW, E, FIN, F, GR, HR, H, IRL, I, LT, L, LR, M, NL, PL, P, R, S, SLO, SK ausgeliefert werden.
"This groundbreaking volume compiles the most comprehensive information on borderline personality disorder in childhood and adolescence. The topic has too long been seen as taboo, but now early-age detection, intervention, and prevention are taking center stage, all brilliantly served by these outstanding chapters from world-renowned experts. The breadth of knowledge provided makes it a necessary library addition for researchers, experienced and early-career practitioners, as well as the lay BPD community and those impacted by the disorder. "

Perry D. Hoffman, Ph.D.

President and co-founder

National Education Alliance for Borderline Personality Disorder
"This book explores borderline personality disorder in children and adolescents, addressing assessment, etiology, developmental course, and treatment, while also incorporating DSM-5 criteria. ... the book is easy to read, the numerous figures and tables help clarify the content, and clinical vignettes demonstrate the procedures. This excellent book explores theory, assessment, treatment, and developmental course of BPD, providing important insights into how it affects young people." (Gary B. Kaniuk, Doody's Book Reviews, March, 2016)

"This groundbreaking volume compiles the most comprehensive information on borderline personality disorder in childhood and adolescence. The topic has too long been seen as taboo, but now early-age detection, intervention, and prevention are taking center stage, all brilliantly served by these outstanding chapters from world-renowned experts. The breadth of knowledge provided makes it a necessary library addition for researchers, experienced and early-career practitioners, as well as the lay BPD community and those impacted by the disorder. "

Perry D. Hoffman, Ph.D.
President and co-founder
National Education Alliance for Borderline Personality Disorder