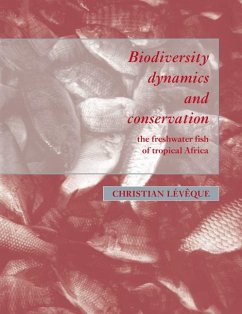 This is a comprehensive book on the biodiversity of one of the most diverse ecosystems known - tropical freshwater.

In order for biodiversity to be conserved, it is important to know how and where diverse assemblages of plants and animals exist, to understand the effects of human impacts on them, and to find the means by which these impacts can be lessened and even reversed. While tropical systems are known to be amongst the most diverse and most threatened globally, tropical freshwater systems have been neglected, and the tremendous variety of fish, amphibians, invertebrates and plants which live in them are poorly known yet seriously threatened. This comprehensive book brings together a wealth of information on the fish of tropical African systems, and discusses how these systems evolved, what holds them together, and what is tearing them apart. This is an important reference work not only for those interested in fish, but for all concerned with biodiversity conservation anywhere.

Table of contents:
Introduction; Acknowledgements; Part I. The Diversity of African Freshwater Fish: 1. The diversity and variability of freshwater ecosystems in tropical Africa; 2. The fish fauna of Africa; 3. Genetic diversity and mechanisms of speciation; Part II. The Past as a Key to Understanding the Present: 4. Species diversity: evolution at work; 5. Classification of diversity; 6. Chance and challenge in a changing environment; Part III. The Diverse Lifestyles of African Freshwater Fish: 7. Diversity of growth and feeding behaviours; 8. Diversity of reproductive strategies and life histories; 9. Diversity of responses to environmental constraints; Part IV. Dynamics of Fish Assemblages: 10. Fish assemblages in tropical Africa; 11. Equilibrium processes of species richness and diversity; 12. Diversity of habitats, temporal change and assemblage dynamics; 13. Fish diversity and ecosystem functioning; Part V. Conservation of Biodiversity: 14. The threats to fish biodiversity; 15. The economic role of fish biodiversity; 16. Conservation options; Bibliography; Species index; Subject index.
Produktdetails
Verlag: CAMBRIDGE UNIV PR
Seitenzahl: 456
Erscheinungstermin: September 2006
Englisch
Abmessung: 246mm x 189mm x 23mm
Gewicht: 807g
ISBN-13: 9780521031974
ISBN-10: 0521031974
Artikelnr.: 20995231